The 5 Best Watercolour Sketchbooks for Beginners in 2023
The 5 Best Watercolour Sketchbooks for Beginners in 2023
Start your watercolour journey today
Have you ever wondered why your watercolor masterpieces sometimes turn into a hot mess? Well, here's the scoop: It might just be your sketchbook's fault.
"But wait," you say, "isn't a sketchbook just a sketchbook?"
Oh, my friend, you're in for a surprise! Picture this: you're trying to paint a serene lake scene, but your sketchbook starts soaking up water like a sponge at a pool party. Or, worse yet, it begins peeling like a sunburned tourist. And let's not even talk about the pages that warp so much they look like they're practicing for a theme park roller coaster gig.
Picking the right sketchbook is a bit like finding the perfect dance partner. You need someone who can groove to your artistic rhythm, make you look fabulous, and won't trip over their own feet halfway through the performance. I've picked up a few moves (sometimes after a stumble or two) over the years, and I can tell you this: your sketchbook or watercolor paper quality is just as crucial, if not more so, than your paints and brushes.
So, grab your dancing shoes, and let's waltz into the enchanting world of watercolor sketchbooks!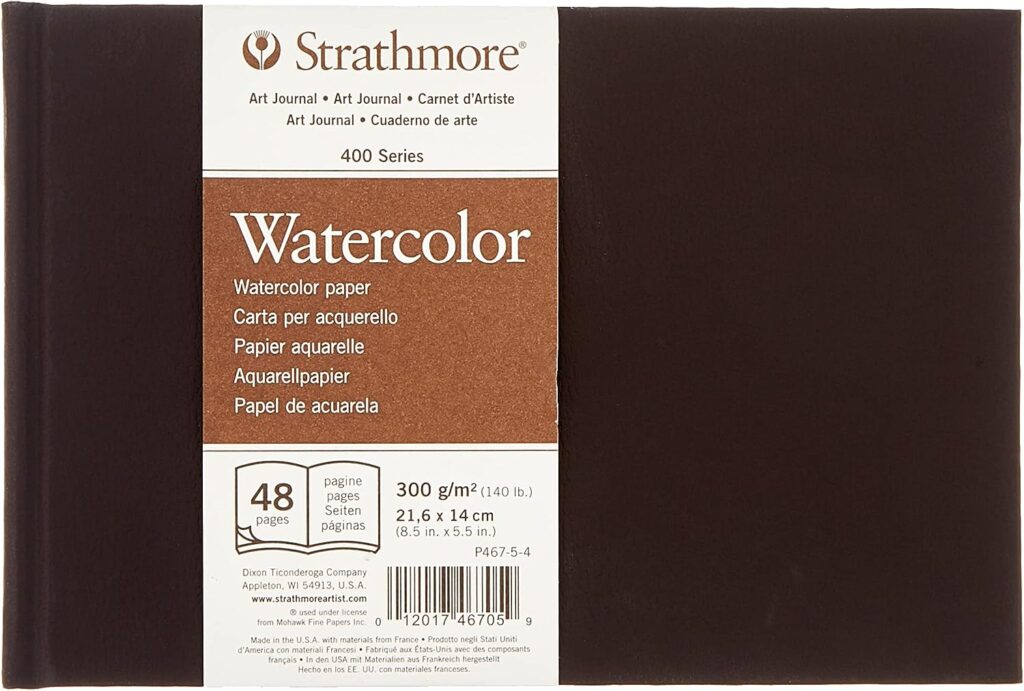 Best Watercolour Sketchbook Overall:
The Strathmore 400 Series takes the crown as the ultimate leader in the watercolour notebook realm. Sized at 8" x 5.5" inches and boasting a robust 300 gsm paper weight, this notebook is practically a canvas in its own right. Its cold-pressed texture with fine grain provides the ideal surface for watercolour. 
However, what truly sets this notebook apart is its remarkable durability. Thanks to its sewn and glued binding, its 48 pages remain steadfast even in the face of relentless water and layers of paint. Yet, it's worth noting that its "premium" price tag mirrors its top-notch quality, which might be a consideration for those on a tighter budget.
Best Mixed Media Watercolour Sketchbook:
Artist Pro Multi-Media Spiral Notebook
Featured in this A-4 drawing pad, is an artist's dream come true. Ideal for sketching, drawing, manga, cartoons, still life, stippling, and honing new styles, this heavy fine art drawing paper delivers on quality. Its versatility shines through as it accommodates a wide range of mediums, including charcoal, watercolours, acrylic paint, ink, and pencil, thanks to its premium surface. 
Additionally, this drawing pad boasts micro-perforated pages, ensuring tidy and hassle-free page removal. Moreover, it offers durability and is acid-free, making it resilient and smooth while absorbing colours and lines with ease, thereby minimizing blotching, smudges, and unexpected mishaps.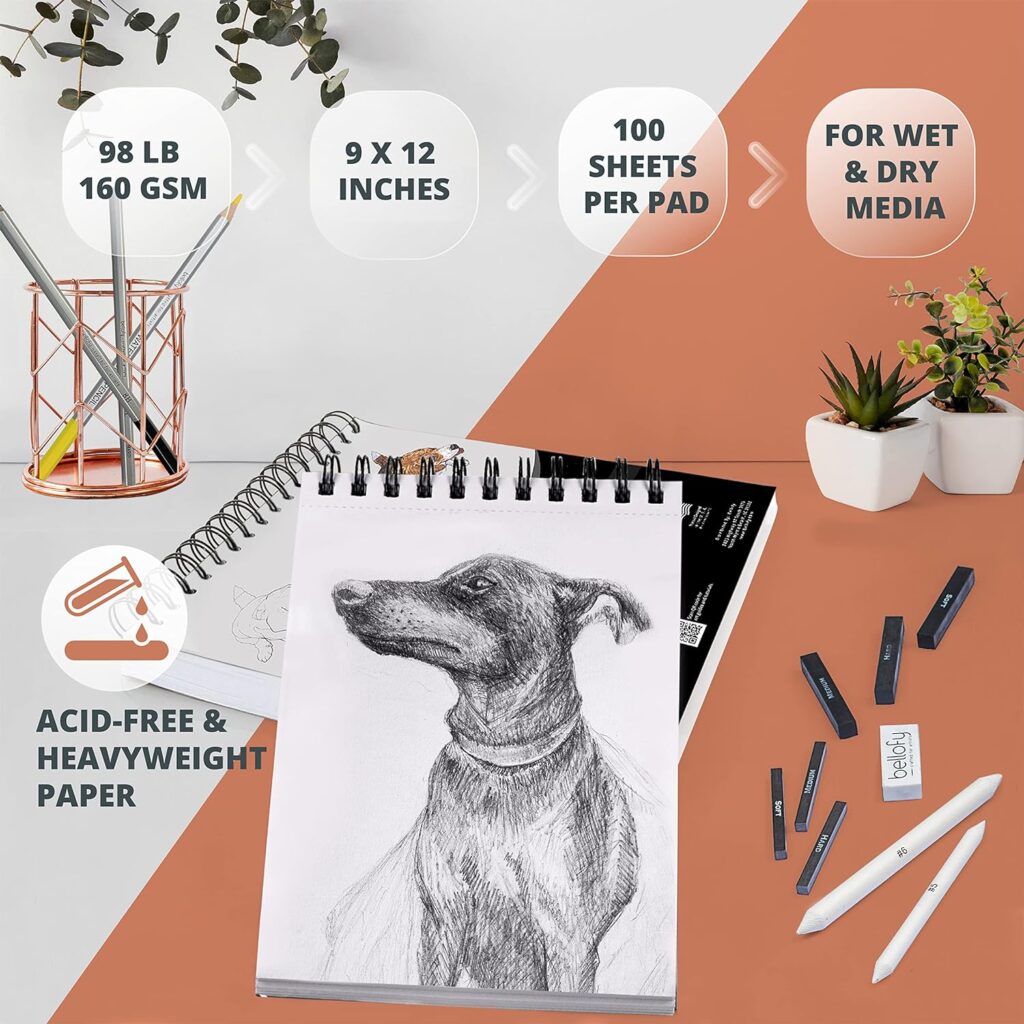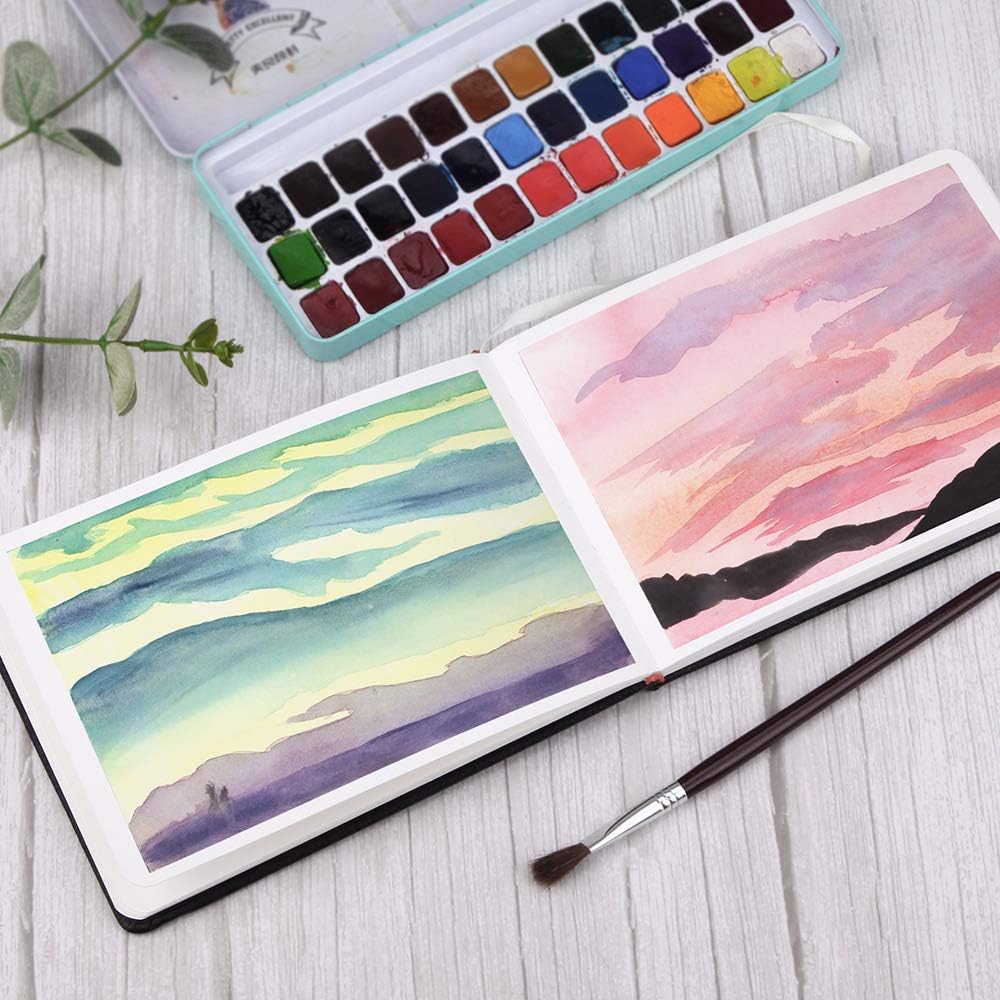 Best Budget Watercolour Sketchbook:
Paul Rubens Art Supplies Watercolor Journal
The Paul Rubens Art Supplies Watercolor Journal strikes an appealing balance between quality and affordability. With its compact dimensions at 7.6" x 5.3" inches, this notebook boasts robust 300 gsm paper, specifically designed to handle watercolours. The hot-pressed texture with satin grain adds a delightful touch to your artistic endeavours. 
It's an excellent fit for botanical illustrators, manga artists, and hobbyists, offering durability with its sewn binding and a reasonable 20-page capacity, perfect for smaller projects. Its competitive price tag makes it a prime choice for those seeking a high-quality notebook without breaking the bank. However, it's worth noting that its smaller size might not suit those who prefer working on larger canvases.
Best Watercolour Sketchbook for Professionals:
Winsor & Newton Professional
The Winsor & Newton Professional notebook is a gem tailored for professional artists. Compact in size at 5" x 7" inches and featuring 300 gsm paper, this notebook exudes exceptional quality, perfect for high-end projects. Its cold-pressed texture with fine grain and internal sizing aligns with the exacting standards of professionals, withstanding heavy washes and copious amounts of water like a champ.
Now, here's the catch: it offers a limited 15 pages, which might leave those who relish juggling multiple projects wanting more. At $26.42, it's a bit pricier per page compared to other notebooks. However, for those who cherish the longevity of their art and prioritize quality over quantity, this investment is unquestionably worth it. Your art will thank you for the extra TLC!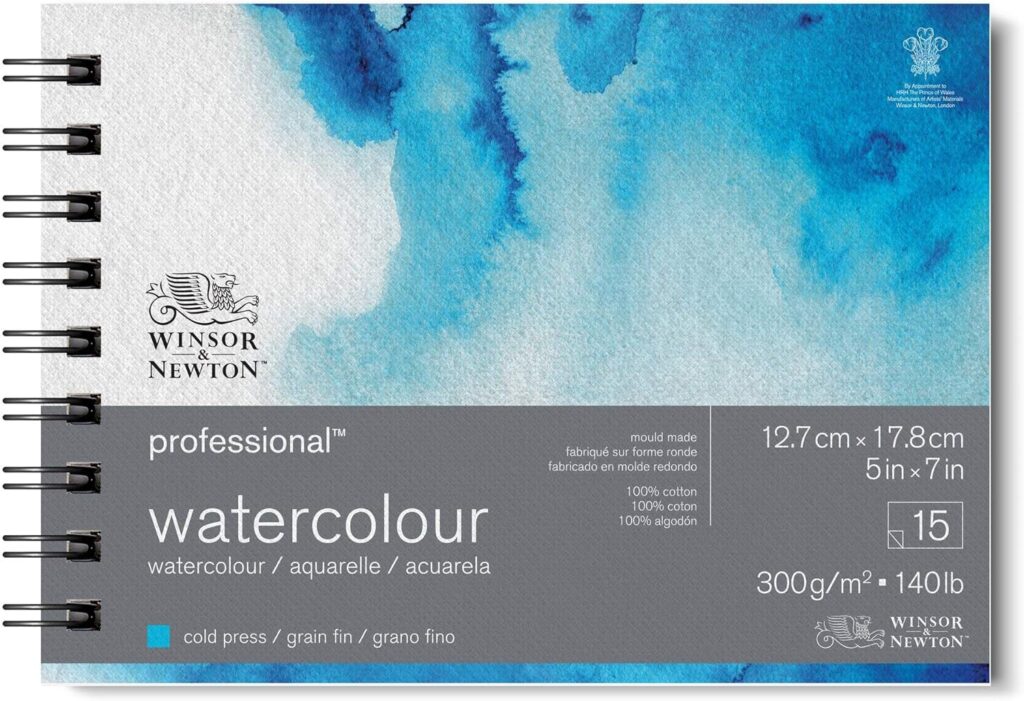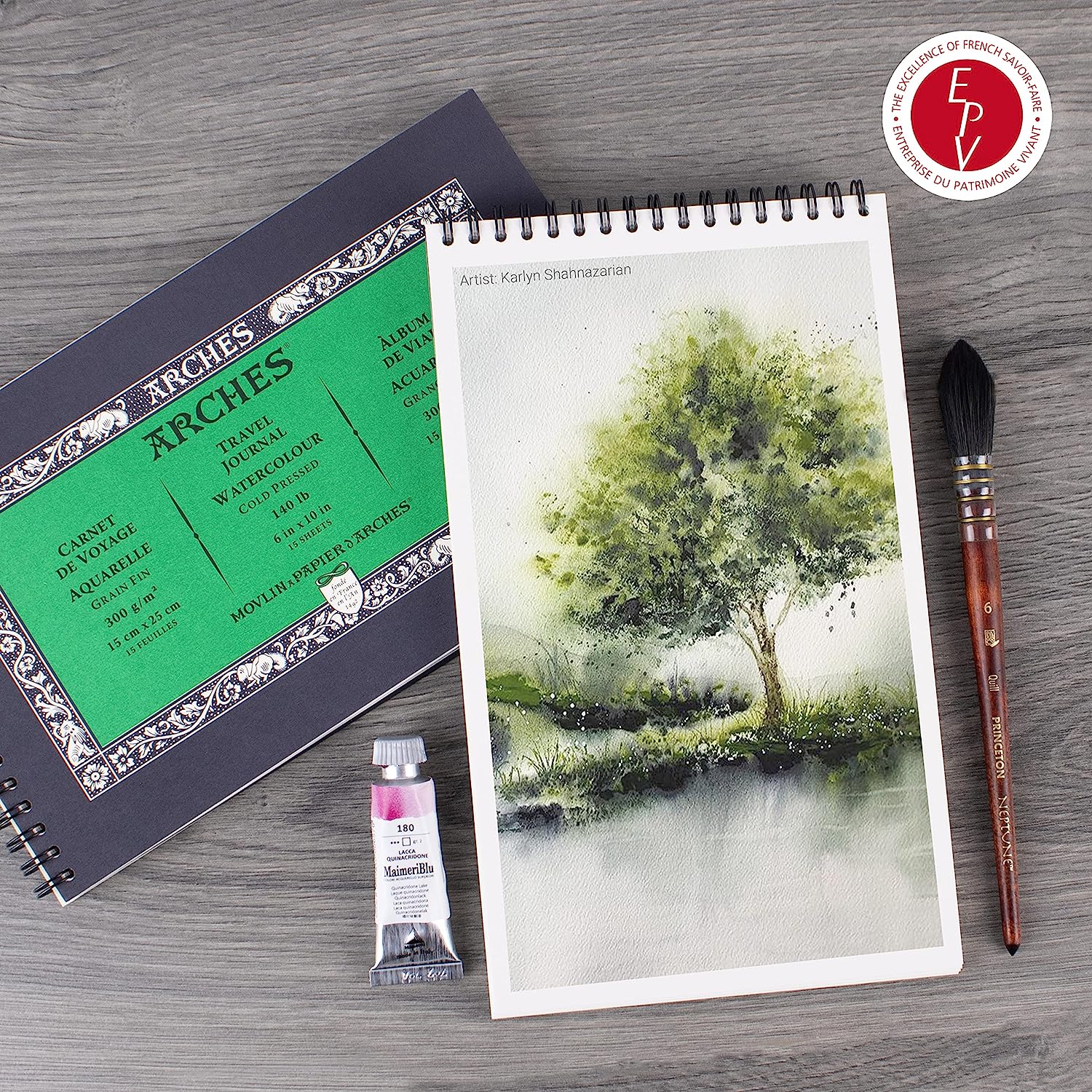 Best Premium Watercolour Sketchbook:
Arches Watercolor Travel Journal
When it comes to watercolours, Arches reigns supreme, and the Arches Watercolor Travel Journal stands tall as the premium choice in the realm of watercolour notebooks. Measuring 6" x 10" inches and equipped with 300 gsm paper boasting both internal and external sizing, this notebook sets the gold standard for discerning artists. Its cold-pressed texture with fine grain delivers an exceptional canvas for watercolour creations.
With its practical spiral binding and a concise 15 pages, it's the go-to option for artists on the move. However, the $40.00 price tag reflects its elite status, which might not align with every budget. Nevertheless, for those who hold quality above all else and are willing to invest in their art, this notebook is the ultimate choice. Your artwork will thank you for the extra attention to detail!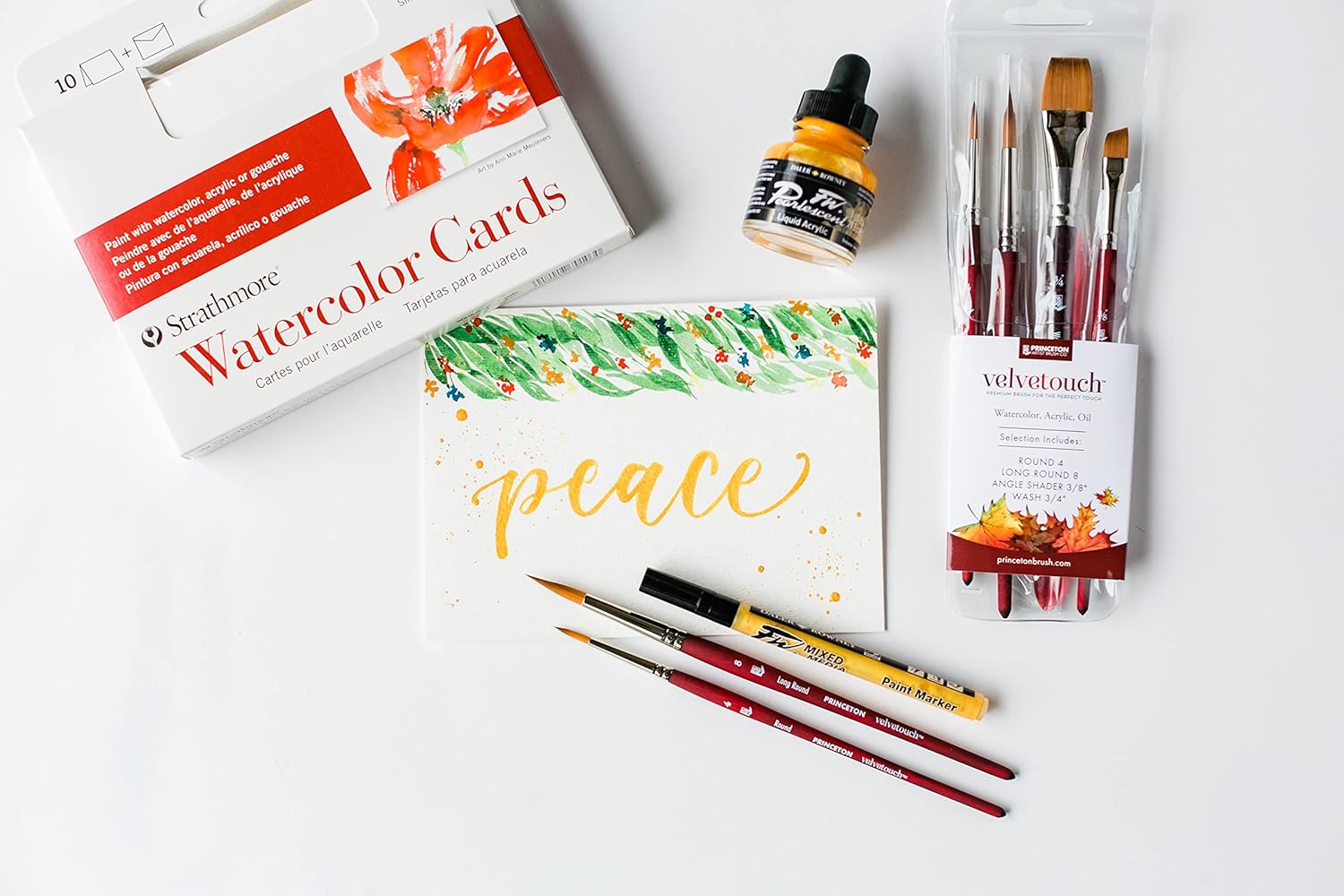 When I embarked on my watercolour journey way back when, I started with no-name watercolour tubes and the most budget-friendly brushes I could find at the dollar store. This lead to mediocre results which I thought was a result of my experience.
If you find yourself in a similar boat—brimming with enthusiasm but navigating a vast sea of choices while tethered to a limited budget—fear not, for you are far from alone.
Whether you're perusing the aisles of a local art supply shop or endlessly scrolling through online product listings, the task of selecting the right brushes can often feel like a form of art in itself. We have broken down the 5 Best Watercolour Brushes for Beginners.