The 5 Best Watercolour Brushes for Beginners in 2023
The 5 Best Watercolour Brushes for Beginners in 2023
Start your watercolour journey today
When I embarked on my watercolour journey back in the day, I started with off-brand watercolour tubes and the most affordable brushes I could find at the dollar store. Looking back, it might evoke a tinge of nostalgia, but as an absolute beginner, and a young one at that, I didn't have the knowledge to make better choices. And you know what? This is a common starting point for many newcomers to the world of watercolour.
So, if you find yourself in a similar situation—brimming with enthusiasm but struggling in a sea of choices, all while managing a limited budget—take solace in the fact that you're not alone.
Over the years, I've gathered valuable insights into what makes a great watercolour brush, particularly for beginners. In this article, we'll explore the best watercolour paint brushes for beginners, helping you understand what makes a great watercolour brush. We'll also guide you in choosing your first set of paints and introduce you to some top brands suitable for newcomers.
So, take a moment to breathe, unwind, and let's set sail on this vibrant adventure together. By the end of this guide, you'll be all set to dip your brush into your very first watercolour palette and embark on your journey to create your masterpiece. Let's begin!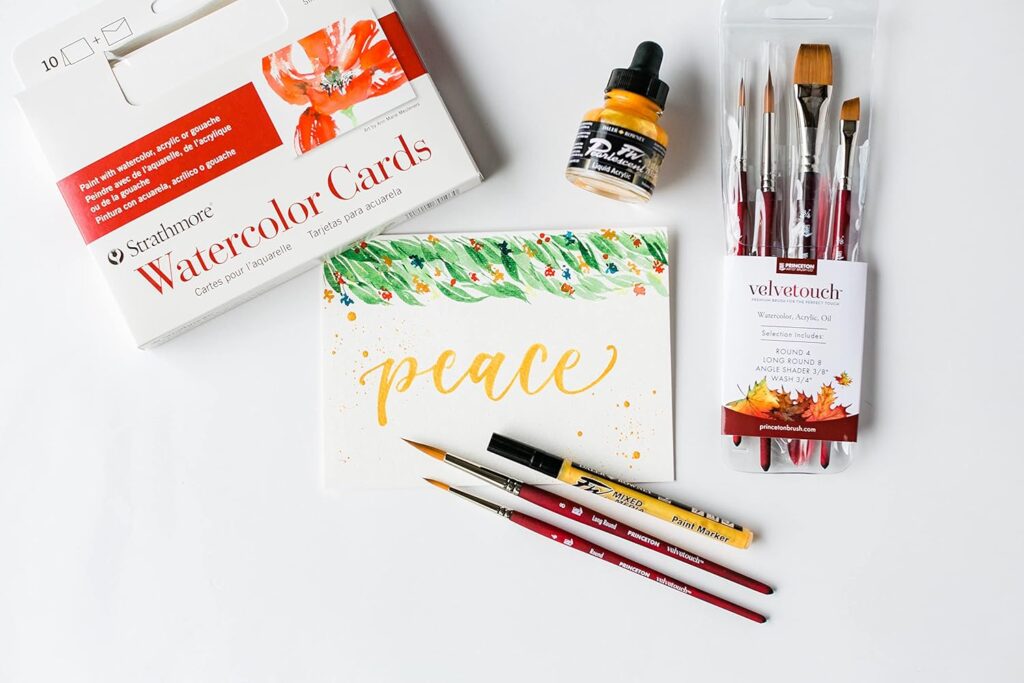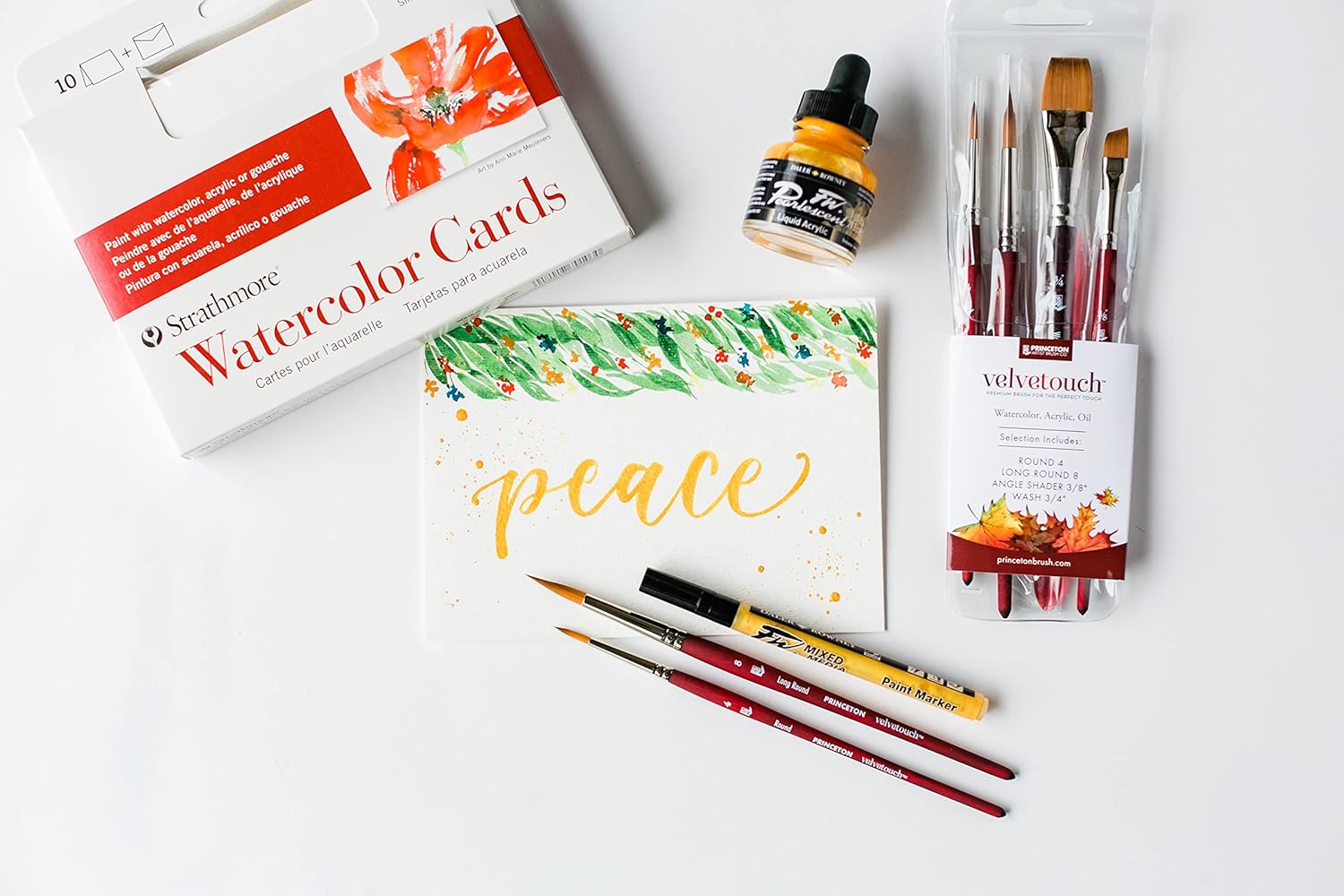 Best Overall Watercolour Brushes for Beginners:
Princeton Velvetouch, Mixed-Media Brushes
The Princeton Velvetouch series stands out as a versatile powerhouse in the realm of mixed-media brushes, earning the admiration of artists who explore various mediums, including acrylic, oil, and watercolour. Many artists have remarked on the remarkable performance of these synthetic blend bristles, noting their uncanny resemblance to natural hair brushes, particularly in their capacity to grasp and disperse pigment. 
Professional artists frequently praise the brush's resilience, highlighting its ability to maintain its shape even after numerous uses. The Velvetouch collection truly encompasses a wide range of qualities, offering a fine point for intricate detail work while boasting a sturdy structure capable of handling denser paints with ease.
Best Watercolour Brushes for Students:
Winsor & Newton Cotman Short Handle Set
Winsor & Newton's Cotman Short Handle Set consistently garners high acclaim for its performance, especially among artists at the intermediate level. The synthetic bristles frequently receive commendation for their ability to hold a substantial amount of water and pigment, rendering the brushes versatile for tasks ranging from broad washes to intricate detailing. 
Artists also value the set's durability and the brushes' capacity to retain their shape even after extended use. The short handles are particularly lauded for offering superb control, especially when engaged in work on smaller canvases or intricate details. This set thus emerges as a dependable and cost-effective alternative for beginners and artists looking for quality and precision.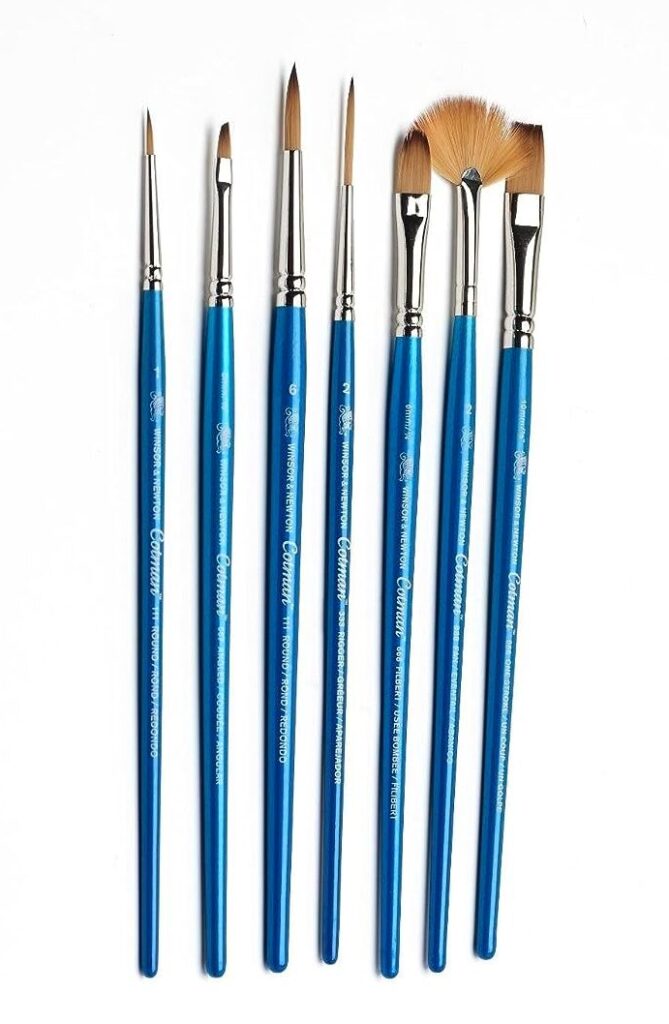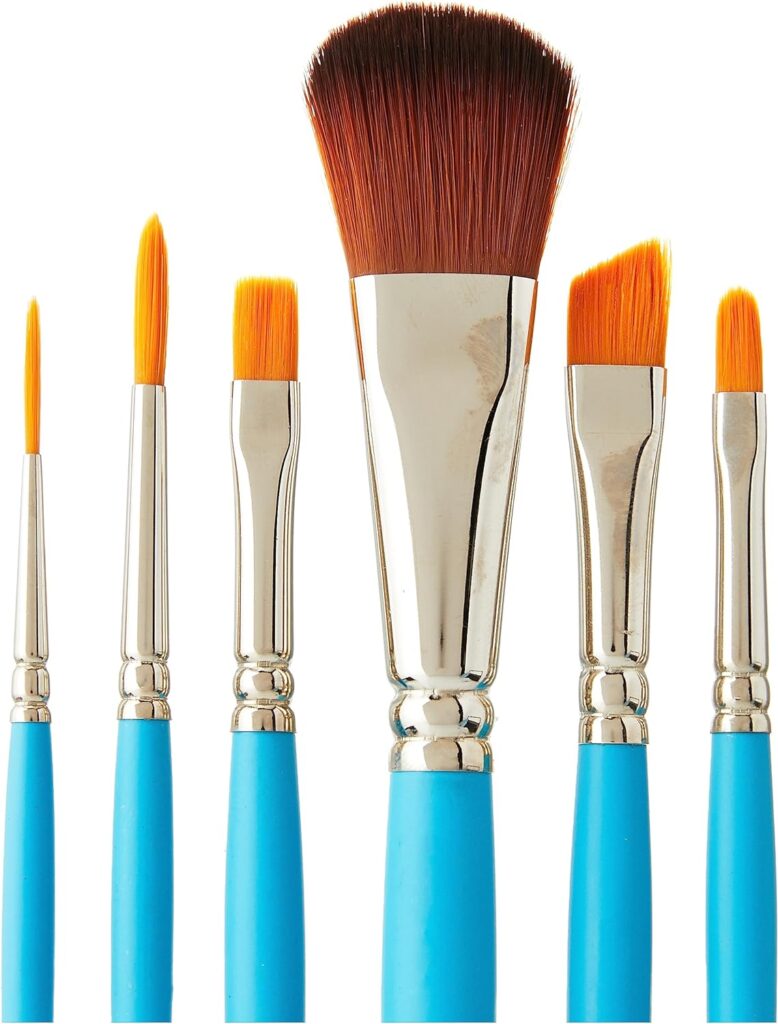 Best Synthetic Watercolour Brushes for Beginners:
Princeton Select Artist, Series 3750
Princeton's Series 3750 brushes serve as a versatile and multipurpose artistic tool that consistently earns praise from artists. Many users laud the durability of the synthetic bristles, noting that they retain their shape admirably even after extensive use across various mediums. 
One of the most beneficial aspects of this brush set, frequently highlighted by artists, is the wide range of available shapes. This diversity allows artists to broaden their technique repertoire without the need to switch to different brush brands. As a result, they can continue to enjoy outstanding performance while staying within a more accessible price range.
Best Watercolour Brushes for Detailing:
Da Vinci CosmoTop Spin Brush Set
The Da Vinci brushes have earned a stellar reputation for their artisan quality and are highly regarded by serious watercolour artists. Their synthetic blend is often hailed as a worthy rival to even the most expensive natural hair brushes. Durability is another prominent advantage, with many artists noting that these brushes continue to perform at a high level over many years. Artists especially appreciate their ability to effortlessly create beautiful washes and gradient effects.
On the flip side, it's worth noting that the Da Vinci set is on the pricier end, which may not make it the most accessible choice for beginners. However, for those aspiring to produce professional-level work, it can be considered a worthwhile investment due to the exceptional quality and longevity these brushes offer.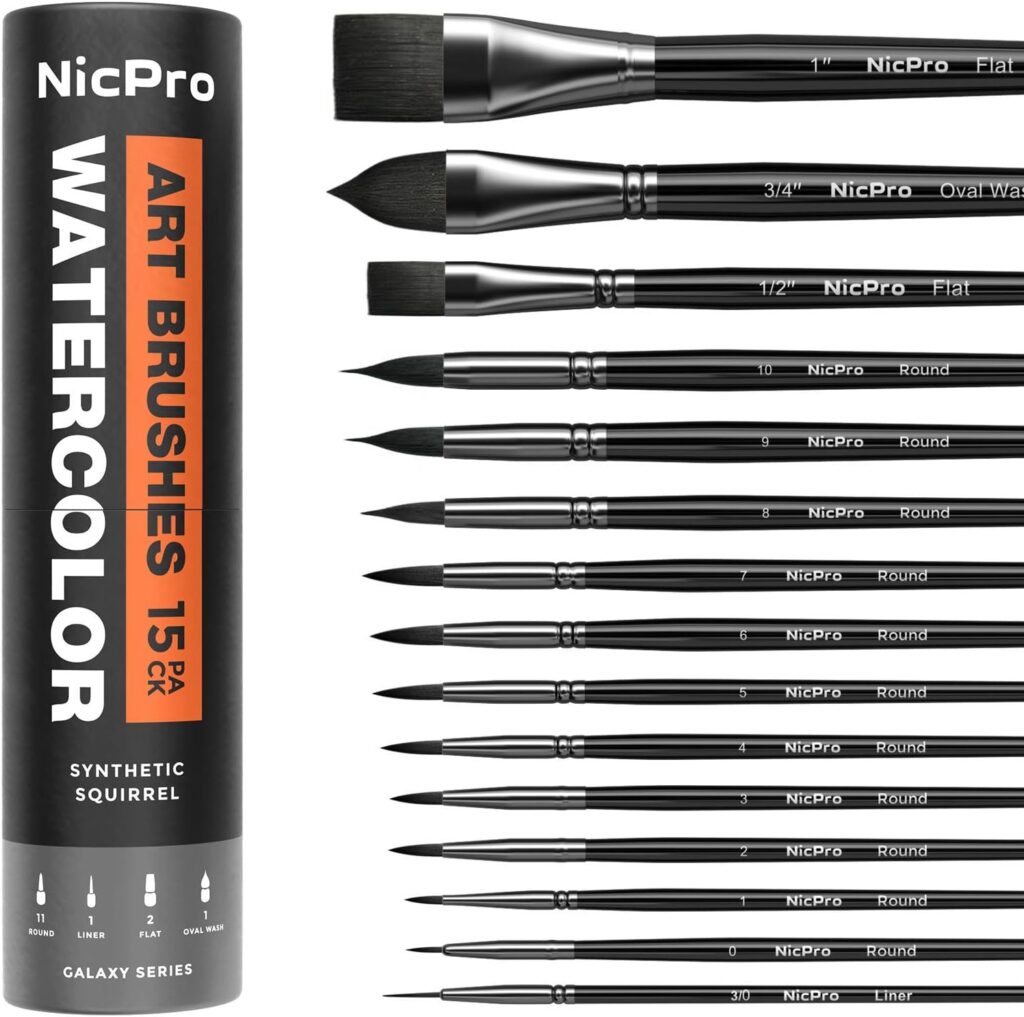 Best Budget Watercolour Brushes for Beginners:
Nicpro Professional Watercolor Brushes
Nicpro's Professional Watercolor Brushes have earned a reputation as the 'sleeper hit' in the realm of art supplies. Artists across all skill levels, from beginners to professionals, have showered praise on the exceptional quality of the synthetic bristles. They highlight these brushes' remarkable capacity to replicate the performance of natural hair brushes, particularly in terms of holding and distributing paint effectively.
The set is frequently lauded for providing "more bang for your buck," striking an excellent balance between quality and affordability. This makes it an outstanding choice as a backup set for professionals or a primary set for those still exploring and developing their artistic style.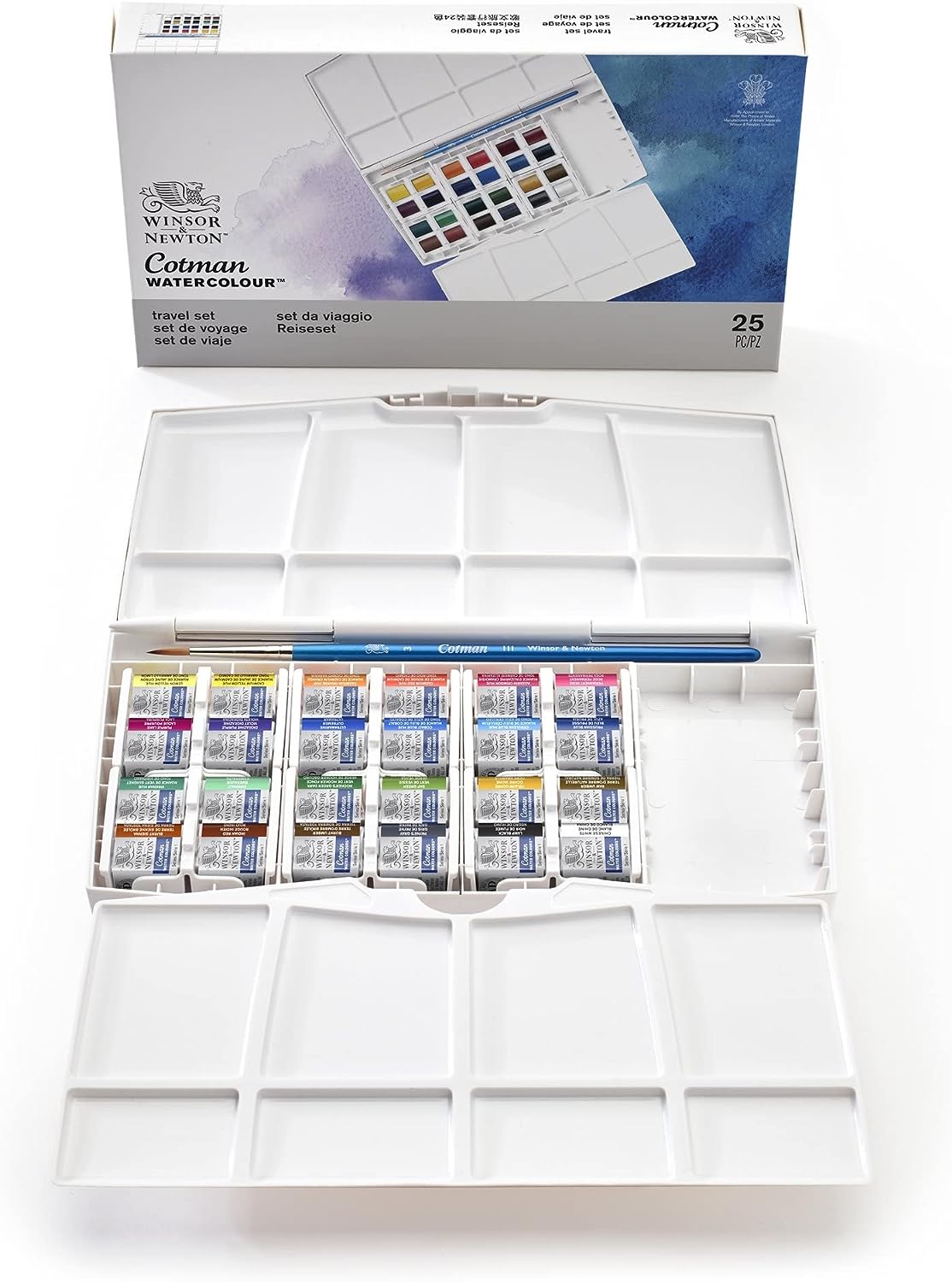 When I embarked on my watercolour journey way back when, I started with no-name watercolour tubes and the most budget-friendly brushes I could find at the dollar store. This lead to mediocre results which I thought was a result of my experience.
If you find yourself in a similar boat—brimming with enthusiasm but navigating a vast sea of choices while tethered to a limited budget—fear not, for you are far from alone.
Whether you're perusing the aisles of a local art supply shop or endlessly scrolling through online product listings, the task of selecting the right brushes can often feel like a form of art in itself. We have broken down the 5 Best Watercolour Paint Sets for Beginners.