The 5 Best Watercolour Pencils for Beginners in 2023
The 5 Best Watercolour Pencils for Beginners in 2023
What are Watercolour Pencils?
Watercolor pencils are a remarkable artistic tool. They consist of watercolor pigments encapsulated within wooden pencils, offering artists greater control during painting without the typical mess associated with traditional watercolor paint. These pencils are not only a versatile medium for crafting watercolor pencil art, sketches, illustrations, or drawings but also a valuable choice for various applications.
For artists seeking to delve into the realm of watercolor techniques or engage in plein air art (outdoor painting), watercolor pencils prove to be an excellent companion. Their portability, ease of use, and contained hues make them ideal for such endeavors. Moreover, beginners exploring the nuances of blending, washes, or intricate details will discover that watercolor pencils provide an exceptional introduction to this captivating medium.
How to Choose the best watercolour pencils
Choosing the best watercolor pencils requires consideration of their diverse uses, which yield different artistic results. They can be employed dry or with water added to the tip, then applied to dry watercolor paper or used as a dry pencil on wet watercolor paper, among other techniques. Additionally, watercolor brush pens, such as the one mentioned, offer increased control and creativity for sketching and illustrating. Lastly, watercolor pencils are known for their forgiving nature, making them an excellent choice for artists learning the ropes of this intricate medium. So, with these insights, you're better equipped to embark on your watercolor pencil journey!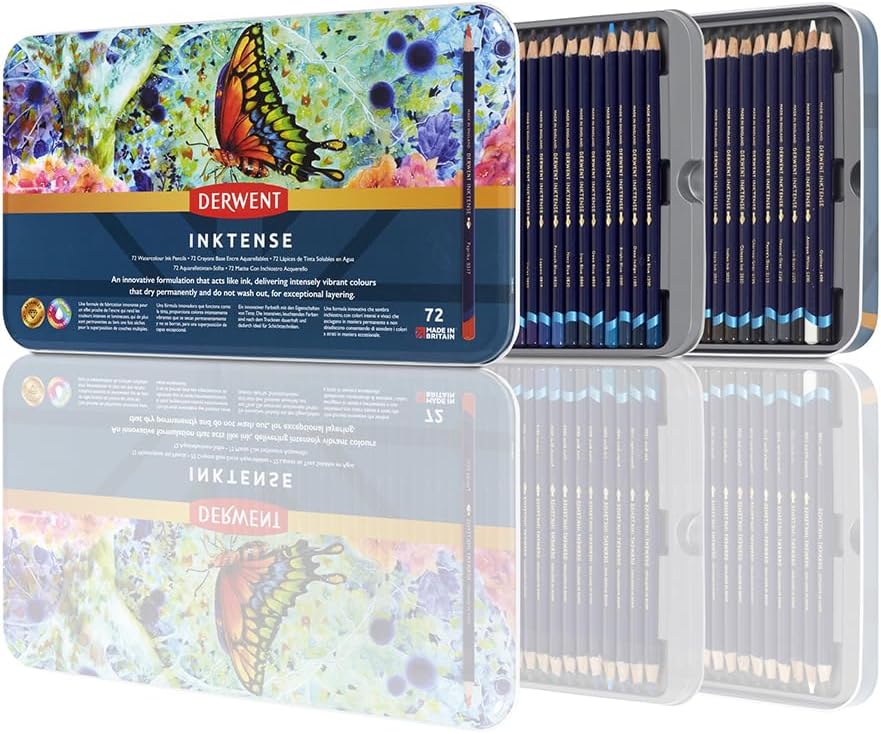 Best Watercolour Pencils Overall:
Derwent INKTense Watercolor Pencils
Derwent watercolour pencils have secured a well-deserved spot as one of the most esteemed brands in the market, and their 72-piece watercolour pencil set stands out as a paragon of quality. These pencils are prized for their subtle application, which facilitates seamless blending of shades. Derwent has a reputation for delivering consistent colour tones, and their pencils offer the flexibility to adjust hues to achieve precisely the desired effect.
While Derwent Inktense pencils may not boast the boldest vibrancy compared to some other brands, the array of tones within this pack provides ample opportunity to blend and craft lively artwork. What's particularly impressive is that each pencil undergoes a lightfastness assessment, with the average pencil retaining its colour for a remarkable 50+ years under standard exhibit conditions. In the world of watercolour pencils, Derwent stands tall as a beacon of quality and longevity.
Best Watercolour Pencils for Beginners:
Faber-Castell Albrecht Durer Watercolor Pencils
Faber-Castell watercolour pencils represent the pinnacle of quality within this brand and offer an outstanding option for students seeking top-notch performance without emptying their wallets. These pencils exhibit remarkable colour intensity, allowing a little to go a long way in covering extensive paper areas. While they may initially feel weighty and coarse when dry, a touch of water transforms them into a delightfully creamy and smooth medium. Moreover, their superb blending capabilities make this 24-pack of pigments highly versatile.
What sets this set apart is its exceptional lightfastness, with the colours maintaining their brilliance for an impressive 100+ years, outshining the typical 25-year longevity of most watercolour pencils. For students and artists who demand quality and long-lasting vibrancy, Faber-Castell watercolour pencils provide an unbeatable combination.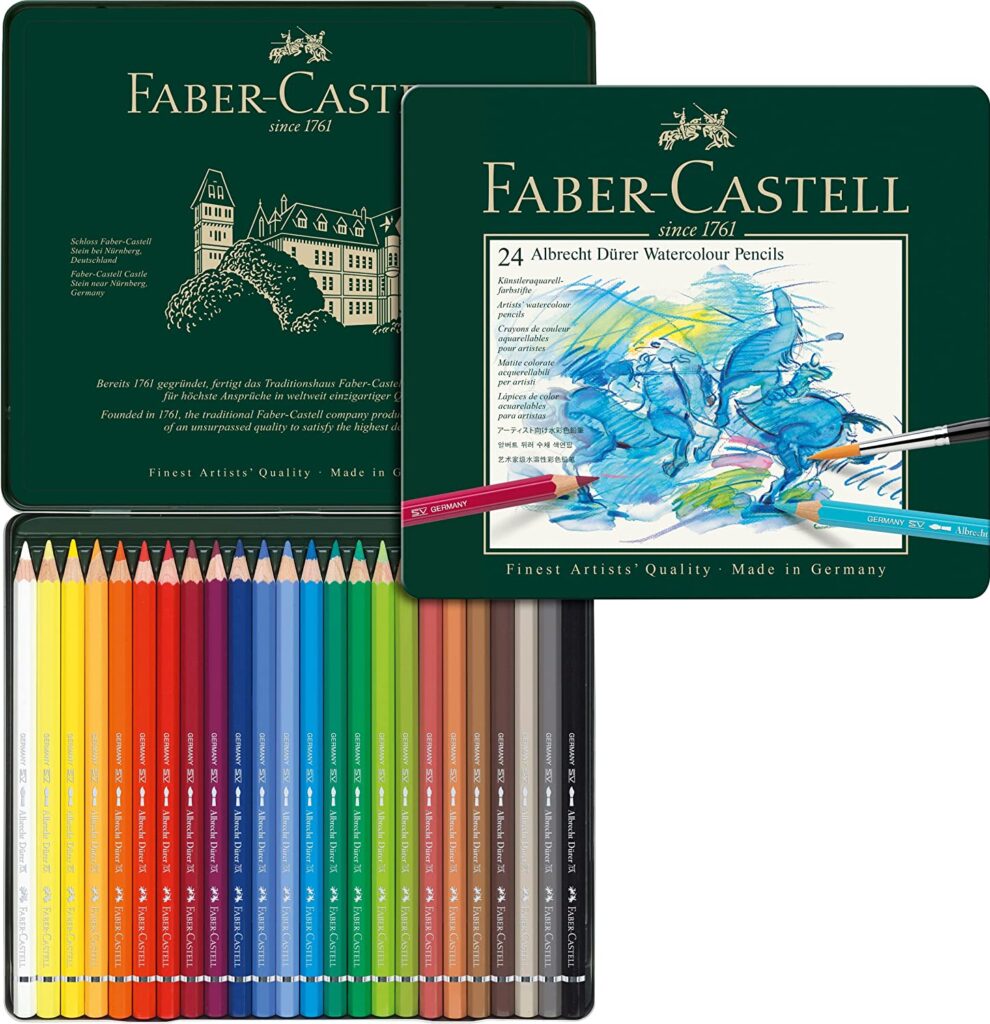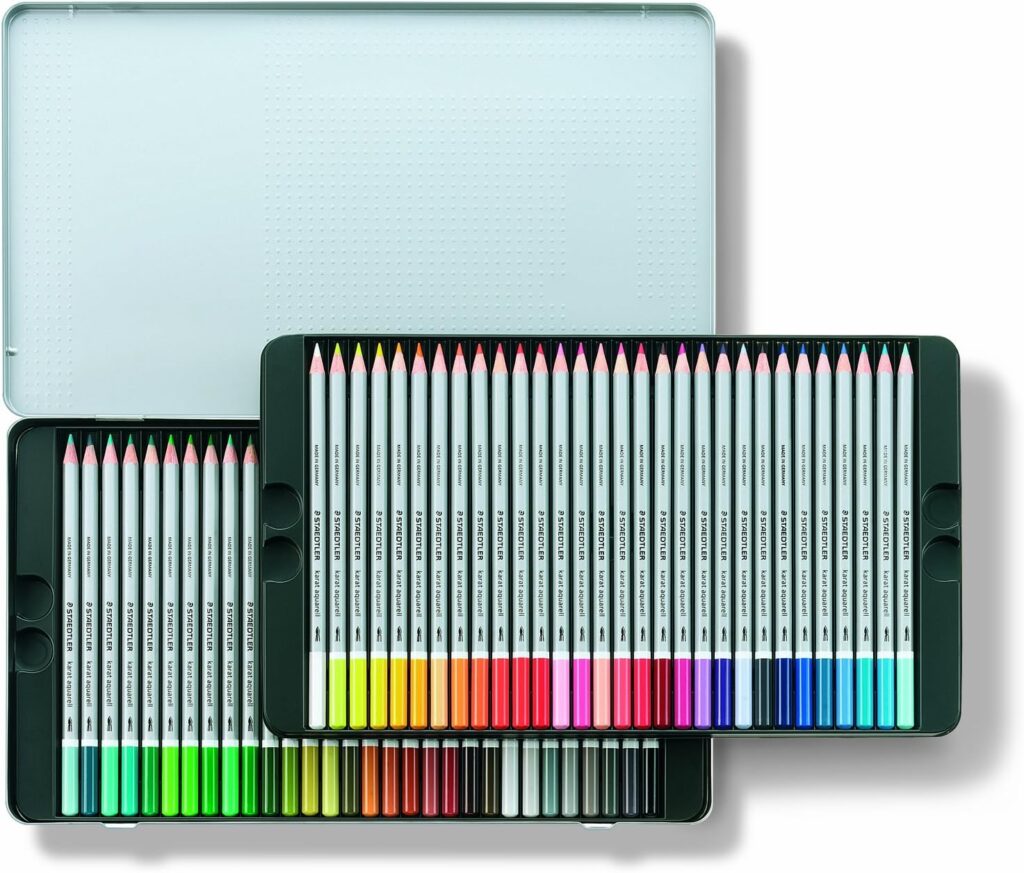 Best Sketchbook Watercolour Pencils:
Staedtler Karat Aquarell Premium Watercolor Pencils
The Staedtler watercolor pencil set, boasting a generous palette of 60 colours, offers an abundance of choices to cater to the needs of any artist's sketchbook or watercolour art endeavours. These pencils feature a slender yet robust lead that excels at rendering intricate details with a dry tip, ensuring precise control during the artistic process. However, they also shine when it comes to blending with water to cover more extensive areas, yielding a beautiful transparent watercolour effect.
What's particularly striking about these pencils is their vibrancy, which remains impressive even with the lighter shades, whether dry or wet. This means that only a minimal amount is required to fill in the intricate areas of your artwork. The Staedtler watercolour pencil set is a true gem for artists seeking variety, control, and vividness in their creations.
Best Watercolor Pencils on Amazon:
Arteza Watercolor Pencils Set of 48
While they are most renowned for their professional-grade watercolour pencils, this artist-grade set deserves recognition for its exceptional quality and affordability. With remarkable blending capabilities, rare in its price range, and an almost indestructible tip, this 48-piece collection of premium colours serves as an ideal tool for instructing students and teenagers in the art of blending and watercolour mixing without the chaos.
Additionally, the lightfastness of the colours in this set spans from 25 to 100 years, ensuring the longevity of your artwork. The added bonus of a convenient storage tube makes this set even more appealing for artists on the go. In the realm of watercolour pencils, this artist-grade collection offers a winning combination of quality, versatility, and cost-effectiveness.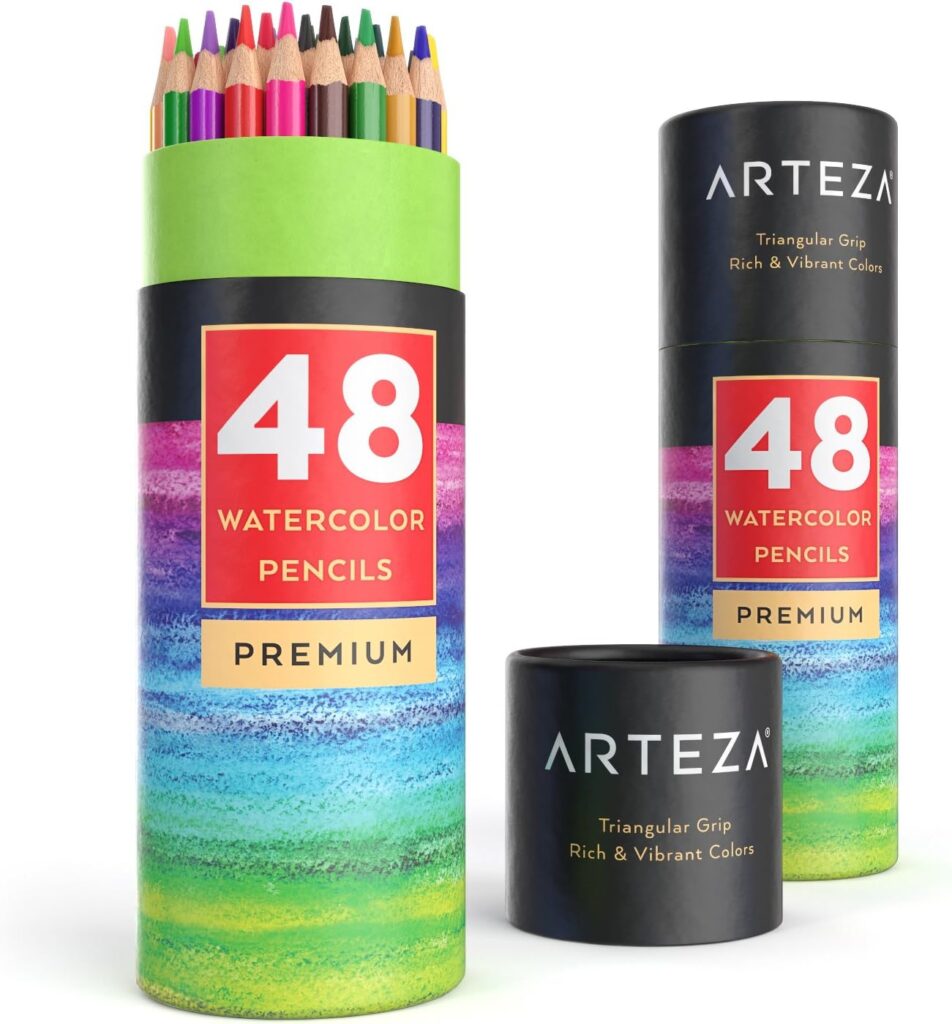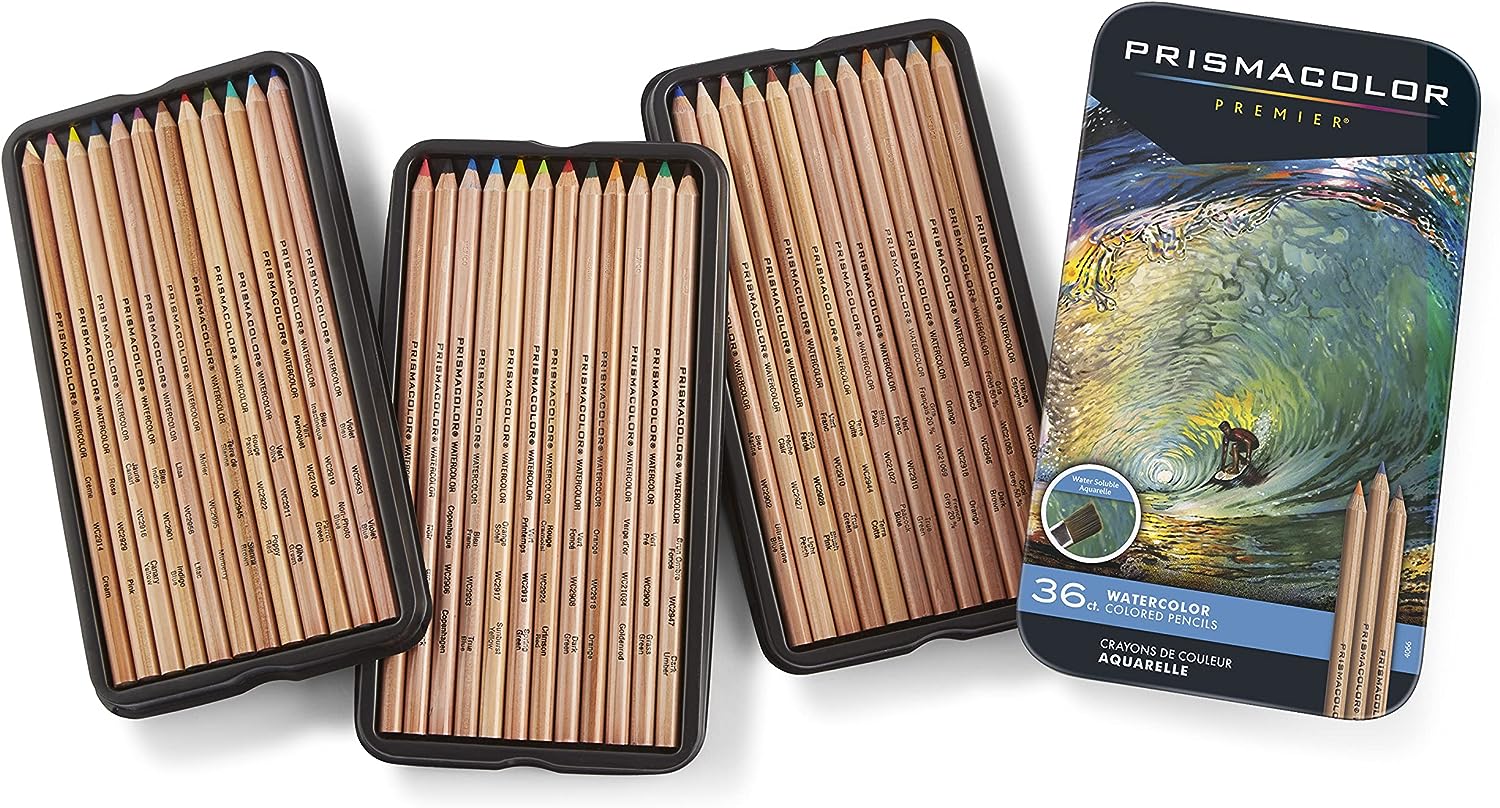 Best Watercolour Pencils for Colouring Books:
Prismacolor WaterSoluble Colored Pencils
When it comes to colouring intricate lines in a colouring book, a set of watercolour pencils that effortlessly blend and sport a sturdy tip is an absolute must. Enter the Prismacolor watercolour pencils set, which checks all the right boxes. Offering 36 of the most sought-after shades in the watercolour universe, these pencils deliver soft, vibrant colours that lend themselves beautifully to blending, mixing, and layering, all without leaving unsightly residue or mess on your page.
What truly sets them apart is the robustness of their tips, which resist breakage, a common issue with many other brands. This durability translates to long-term savings, as you won't find yourself constantly replacing worn-down pencils. Additionally, the colours featured in this set boast impressive lightfastness, ensuring your artistic creations retain their brilliance over time. In the world of watercolour pencils for colouring books, Prismacolor reigns supreme.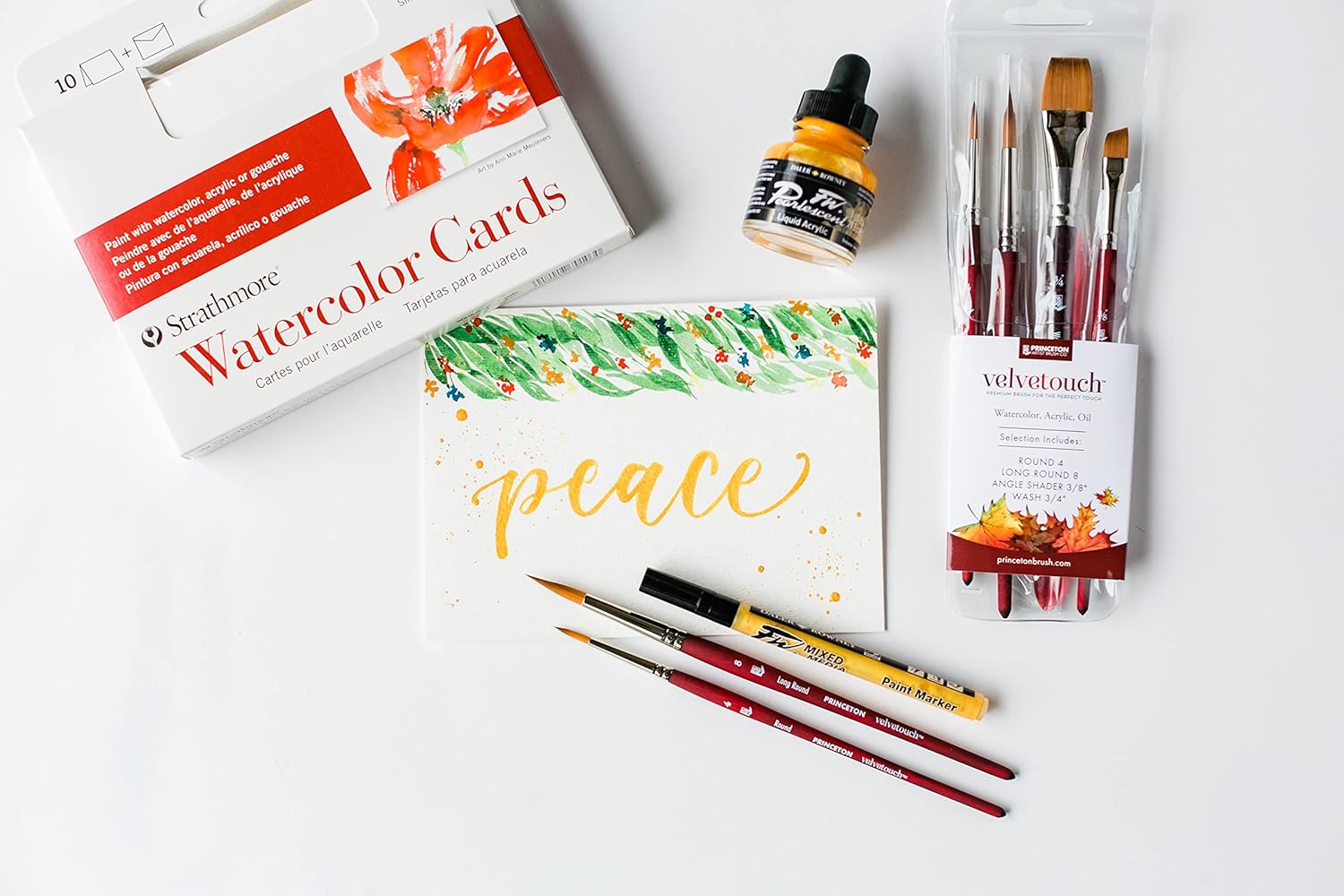 When I embarked on my watercolour journey way back when, I started with no-name watercolour tubes and the most budget-friendly brushes I could find at the dollar store. This lead to mediocre results which I thought was a result of my experience.
If you find yourself in a similar boat—brimming with enthusiasm but navigating a vast sea of choices while tethered to a limited budget—fear not, for you are far from alone.
Whether you're perusing the aisles of a local art supply shop or endlessly scrolling through online product listings, the task of selecting the right brushes can often feel like a form of art in itself. We have broken down the 5 Best Watercolour Brushes for Beginners.