The 5 Best Watercolour Paints for Beginners in 2023
The 5 Best Watercolour Paints for Beginners in 2023
Start your watercolour journey today
Watercolour painting is more than just a hobby; it's your canvas for self-expression, a ticket to relaxation, and a doorway to creating beauty. However, taking the first step can feel like entering a maze of questions: What paints should you use? Which brand suits you best? How do you choose from the sea of colours? No worries, we're here to help you navigate this colourful journey!
In this article, we'll explore the best watercolour paint sets for beginners, dig into the world of colours and pigments, helping you understand what makes a great watercolour paint. We'll also guide you in choosing your first set of paints and introduce you to some top brands suitable for newcomers.
So, take a moment to breathe, unwind, and let's set sail on this vibrant adventure together. By the end of this guide, you'll be all set to dip your brush into your very first watercolour palette and embark on your journey to create your masterpiece. Let's begin!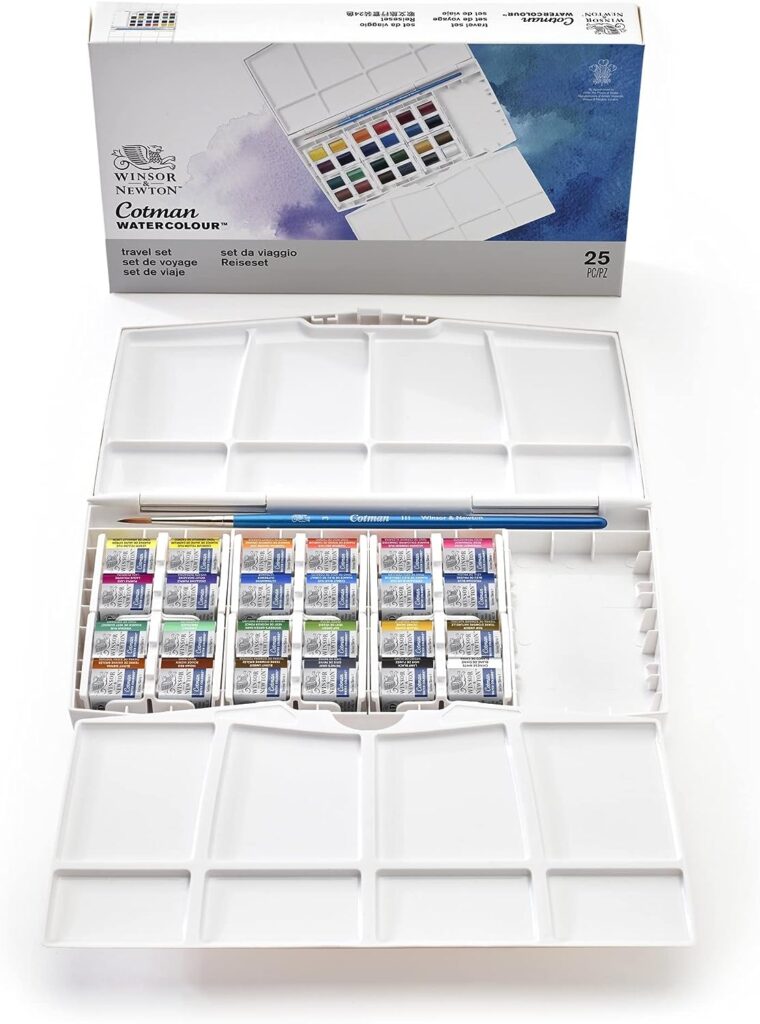 Best Watercolour Paint Set for Beginners:
Winsor & Newton's Cotman line stands out as a favoured choice and an excellent entry point for beginners, thanks to its attractive blend of affordability and quality. These watercolours are renowned for their vivid, lively hues and impressive transparency. They effortlessly blend and possess a silky texture that complements acid-free paper beautifully.
This watercolour paint set is tailored for convenience, featuring a compact and lightweight design that's perfect for on-the-go artists. Inside, you'll discover 12 half pans of Cotman watercolours, and the lid of the box serves as a nifty mixing palette, letting you experiment with colour blending right within the set. 
Plus, it includes a brush, ensuring you're equipped to dive into your painting endeavours straight away. Despite their seemingly small size, the paint pans have remarkable longevity, granting you ample practice sessions before considering replacements.
Best Travel Watercolour Set for Beginners:
Sakura Koi Pocket Sketch Field
The Sakura Koi Watercolor Field Sketch Set stands out as a compact and portable companion adored by beginners and globe-trotting artists alike. This set boasts a palette of vibrant colours that welcome even the most novice painters with open arms. It further enhances its appeal by including a mixing palette, a refillable water brush, and a sponge, providing convenience for artists on the move.
What truly makes the Sakura Koi set shine is its exceptional colour quality and user-friendliness. The paints offer a smooth application and easily blend, allowing for effortless creation. They exude vibrancy and a commendable level of transparency, inviting artists to explore a multitude of watercolour techniques.
However, it's worth noting that this set isn't tailored for professional-grade work. While the colours dazzle with their brightness and vibrancy, they may not meet the standards of lightfastness and permanence required for professional artwork.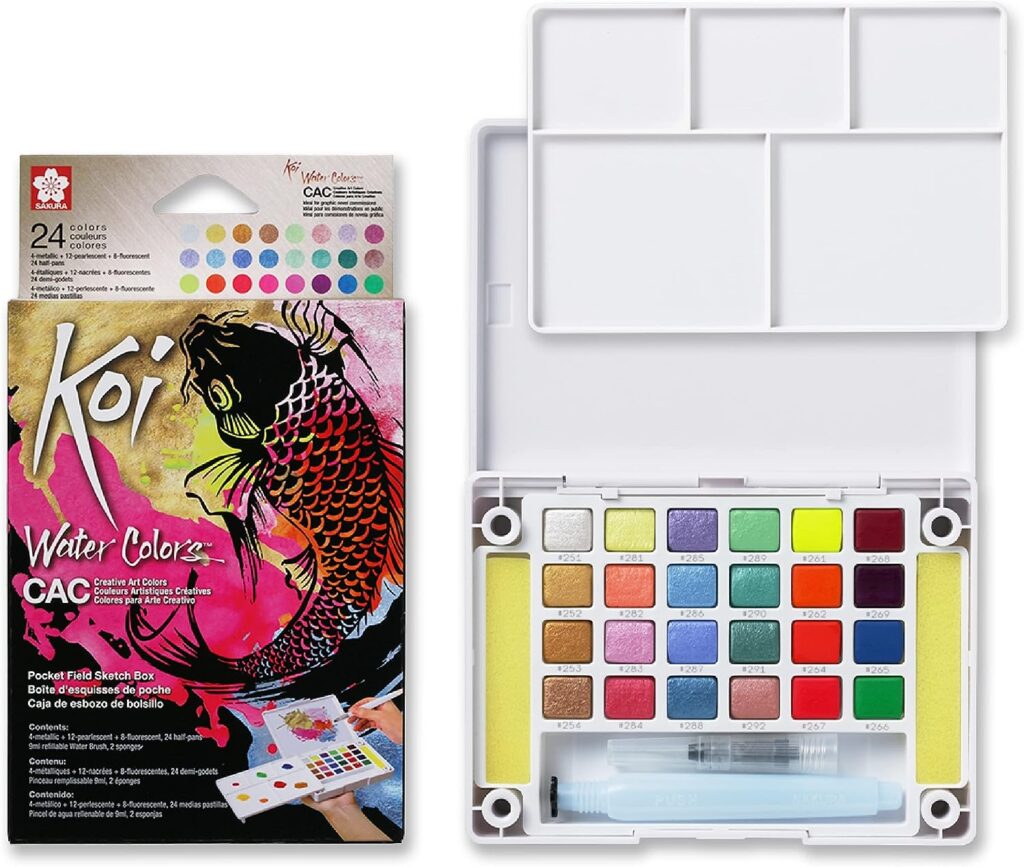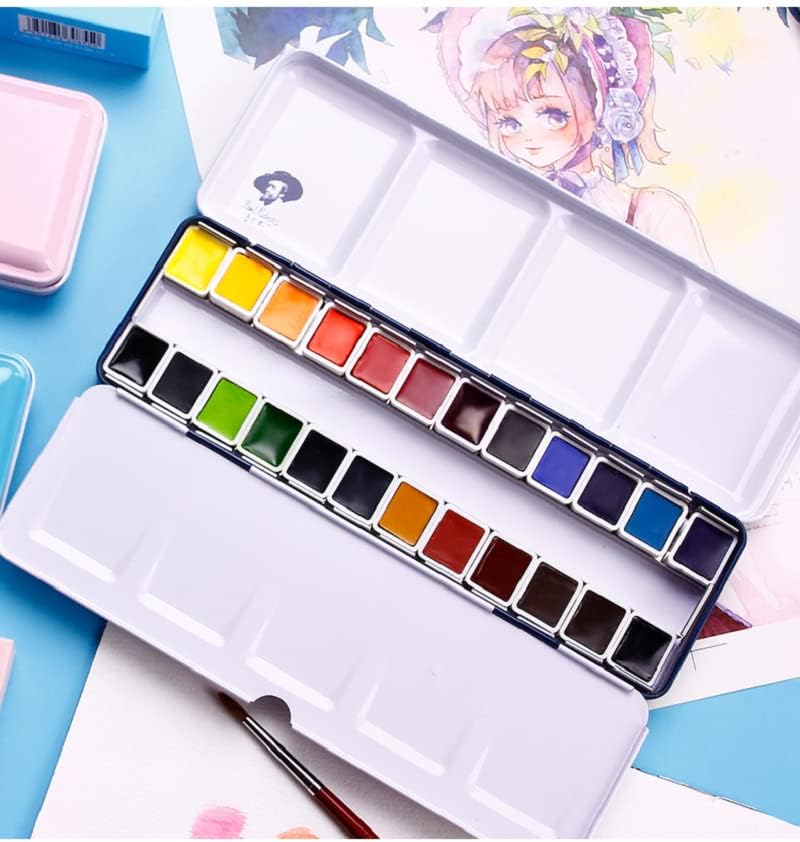 Best Value Watercolour Paint Set for Beginners:
Despite being a relatively new player in the watercolour paint scene, Paul Rubens has swiftly made a name for itself, celebrated for its remarkable pigment intensity and textural finesse. These paints have gained quite a following among crafters and lettering artists, all thanks to their dynamic spectrum of colours and seamless application. Crafted from top-notch materials, they offer an exceptional blendability and boast excellent lightfastness, guaranteeing the enduring vibrancy of your artwork.
Endorsed by numerous content creators and even some seasoned professionals, this set truly stands out in terms of value for money, featuring a generous assortment of 24 interchangeable color pans. To top it off, the set is elegantly presented in a charming pink palette, adding a touch of both playfulness and sophistication to your painting adventures.
For those seeking more variety, Paul Rubens also offers alternative watercolour sets, such as metallic or pastel collections, all of which maintain the brand's reputation for delivering outstanding value at an affordable price point.
Best Watercolour Paint Tubes Set for Beginners:
Daniel Smith Introductory Set
Daniel Smith is a renowned name in the art supplies realm, celebrated for its distinctive, vibrant colours and exceptional blending capabilities. However, as is often the case with professional-grade watercolour paints, they come with a hefty price tag. To assemble a substantial customized palette of artist-quality paints, you might find yourself shelling out hundreds, if not thousands, of dollars. While these paints are an investment due to their enduring quality, it's not necessarily the wisest route for beginners to take.
Enter this introductory set of watercolour tubes, thoughtfully curated to offer a selection of colours that enables newcomers to explore the art of mixing and create a wide array of hues. It's the ideal choice for those who wish to dip their toes into the world of professional watercolour paint without breaking the bank or exceeding their budget constraints.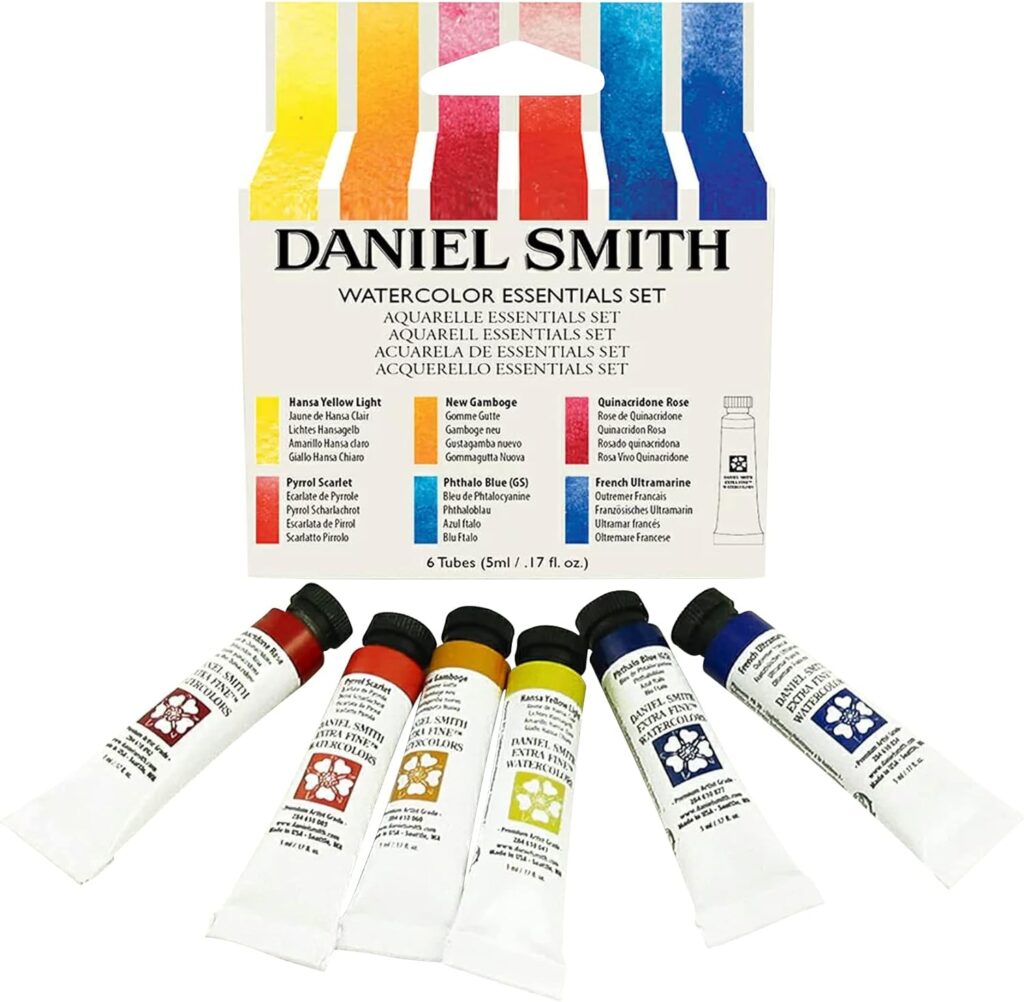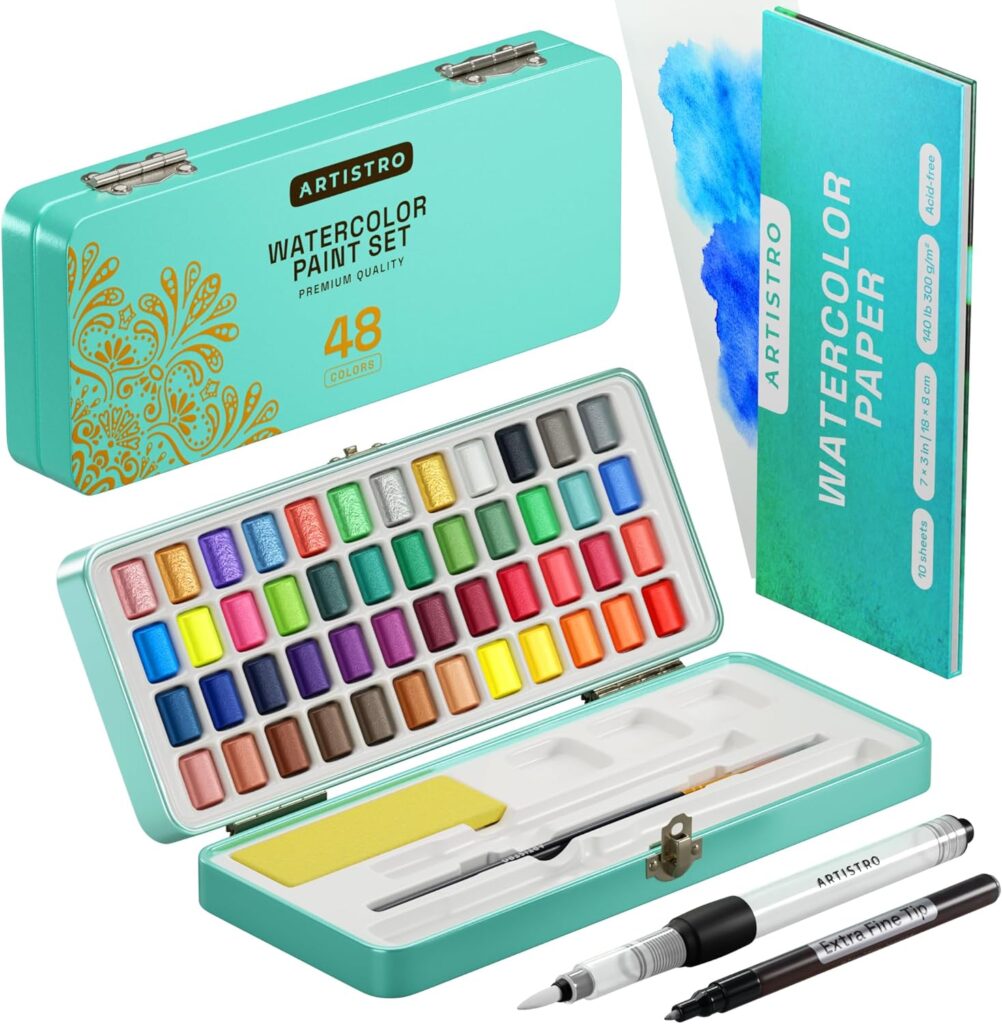 Best Budget Watercolour Paint Set for Beginners:
Artistro Watercolor Paint Set
The Artistro Watercolor Paint Set offers a pocket-friendly option without skimping on quality. These paints dazzle with their vibrant hues and effortless blending, and the half pan set boasts an extensive palette of colours.
What's more, it's a highly portable option, complete with ten watercolour paper sheets, a black fineliner, a sponge, a brush, and a waterbrush. This comprehensive kit is an excellent pick for beginners who are embarking on their watercolour painting journey, as it provides all the essential tools to kickstart your artistic adventures.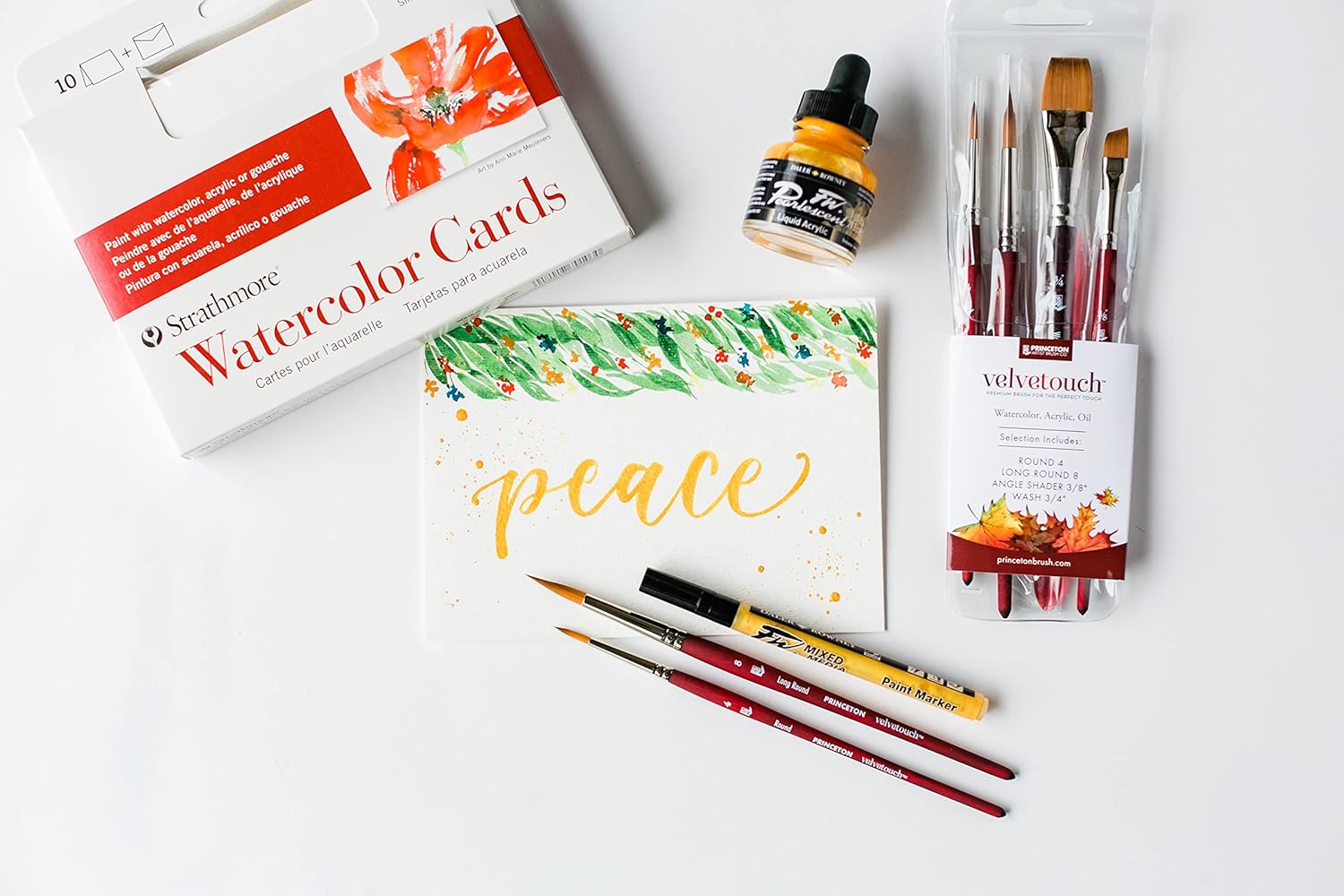 When I embarked on my watercolour journey way back when, I started with no-name watercolour tubes and the most budget-friendly brushes I could find at the dollar store. This lead to mediocre results which I thought was a result of my experience.
If you find yourself in a similar boat—brimming with enthusiasm but navigating a vast sea of choices while tethered to a limited budget—fear not, for you are far from alone.
Whether you're perusing the aisles of a local art supply shop or endlessly scrolling through online product listings, the task of selecting the right brushes can often feel like a form of art in itself. We have broken down the 5 Best Watercolour Brushes for Beginners.