The 5 Best Pastel Pencils for Beginners in 2023
The 5 Best Pastel Pencils for Beginners in 2023
Welcome to the world of pastel art! Choosing the perfect pastel pencils can be a bit like embarking on an exciting adventure. Whether you're just starting out, a passionate sketcher, or a seasoned pro, we've got you covered. We'll break down the key factors that matter most: price, colour variety, and consistency. By the end of this guide, you'll have the insights you need to select the ideal pastel pencils for your creative journey. So, let's jump in and discover the colourful realm of pastel pencils together!
How to choose the best Pastel Pencil for a beginner?
Pastel pencils can span a wide price range, but they're well worth the investment for the unique highlights and finer details they can add to your artwork. Beginners can find good-quality sets for around $30, while professional sets with an extensive array of pigments can cost several hundred dollars.
Pastels are distinct from other mediums in that they are opaque and don't blend easily to create various tones. As a result, professionals and artists familiar with pastels may benefit from a broad spectrum of colours. However, beginners are often better off starting with a few basic colours to master techniques and understand the unique properties of pastels.
Most pastel pencils are water-soluble, allowing for smoother colour blending, which results in a less chalky and rough texture compared to hard or soft pastels. Artists typically layer hues and use blending tools like VENCINK blending stumps or pastel paintbrushes such as those found in the Creative Mark set to merge colours. Pastel pencils offer a soft and powdery texture that's perfect for shading, layering, and distributing colour. For fine details, harder "pitt" pencils are a better choice.
Selecting the right paper for pastel pencils is crucial. You'll want a thicker paper with a toothed texture that allows the colours to integrate well. The Strathmore 400 series pastel pad is an excellent choice.
Some artists use fixatives to protect their final work. There are various types of fixatives available, including non-toxic options. You can find more information on fixatives in our previous article.
With these factors in mind, you can embark on your pastel pencil journey with confidence, armed with the tools that best suit your artistic vision and style.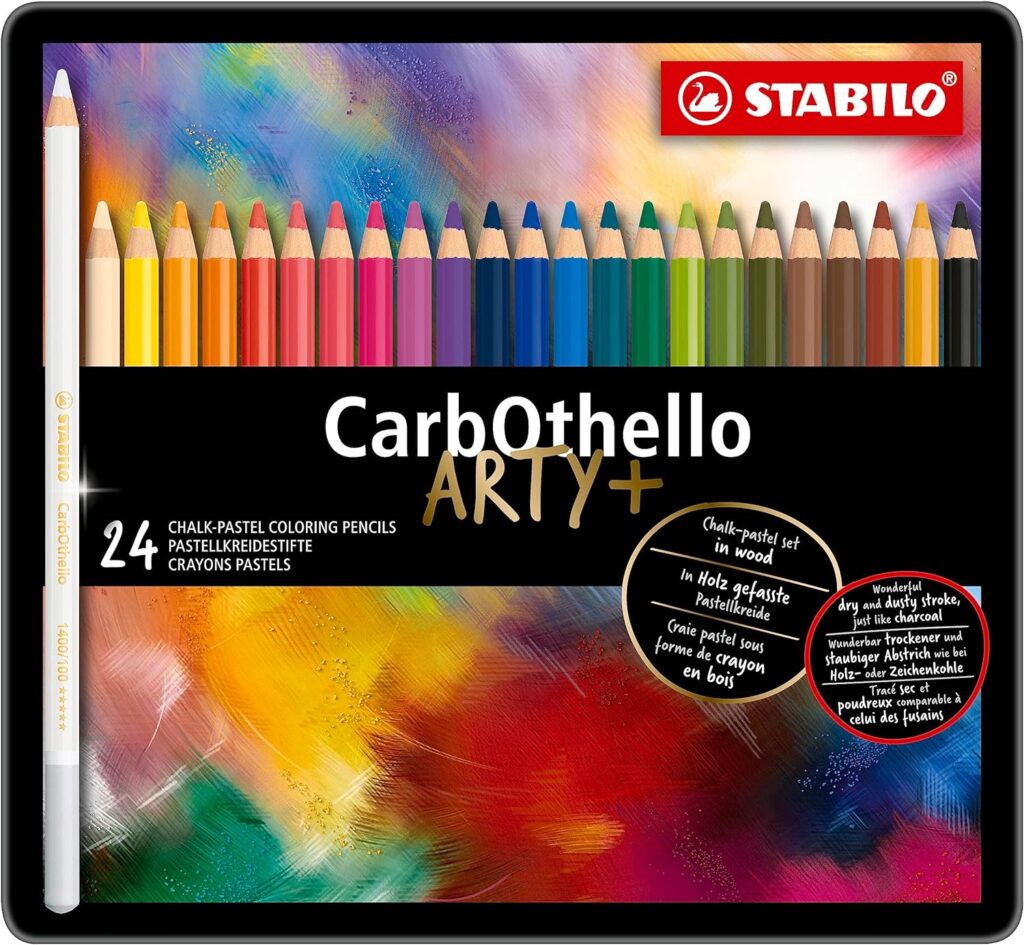 Best Pastel Pencils for Beginners:
STABILO CarbOthello Pastel Pencils for Beginners
If you're a beginner artist in search of the perfect pastel pencils, look no further than the STABILO CarbOthello pastel pencils. This set of 24 offers an excellent balance of price, quality, and colour variety, making it ideal for newcomers to the world of pastel art.
While these pastel pencils have a slightly chalky consistency, they excel in not leaving excessive powdery residue that can smudge your artwork. Instead, they offer rich, vibrant colours that can be layered to achieve even brighter pigments. With this set, you'll have the tools you need to explore layering and highlighting techniques as you embark on your pastel art journey. Happy creating!
Best Pastel Pencils Overall:
Caran d'Ache Pastel Pencils
Caran d'Ache is a brand that stands out for its commitment to crafting top-quality pastel pencils tailored to the needs of professional artists. They've taken valuable feedback from seasoned artists to create a remarkable product.
The 20-piece set of wax-based pastel pencils from Caran d'Ache is characterized by its hard and powdery consistency, making it an excellent choice for layering. These pencils boast vibrant pigments that are rich in colour. What's more, every pencil in the Pablo range is both water-resistant and permanent, giving you the flexibility to explore various techniques and create lasting masterpieces. With Caran d'Ache, you're in the hands of a brand that truly understands the art of pastel pencils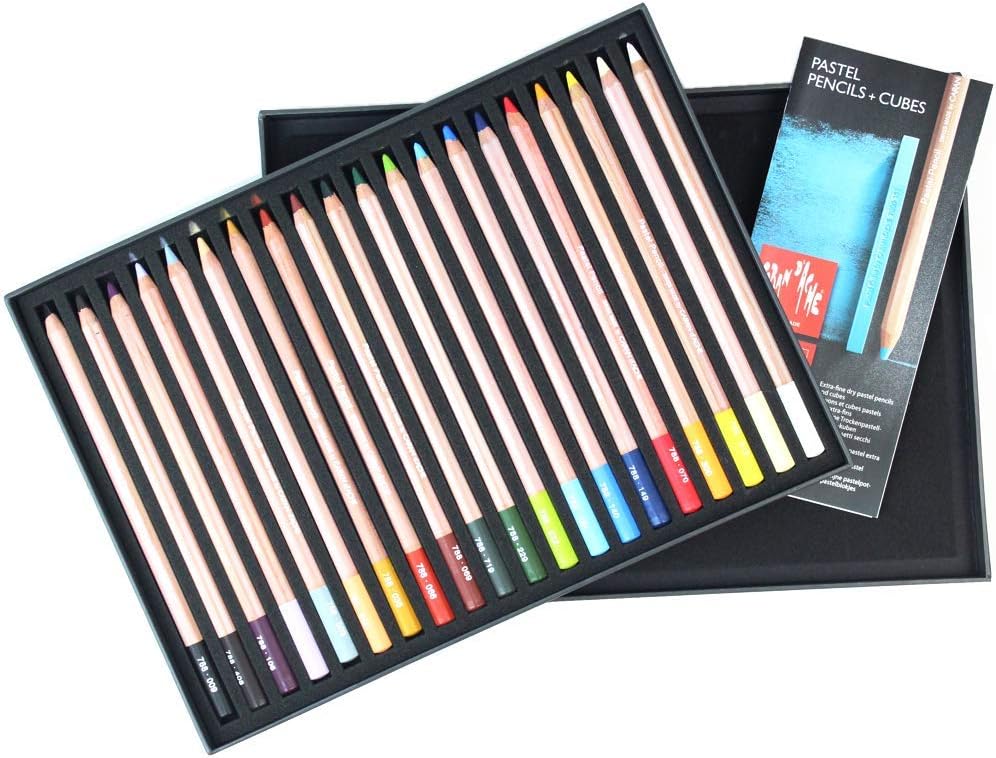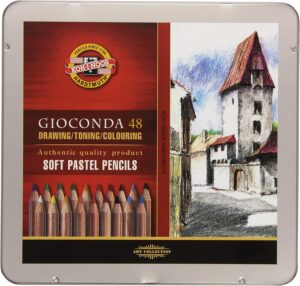 Best Pastel Pencils for Drawing:
KOH-I-NOOR Pastel Pencils
If you're an intermediate artist with a penchant for drawing, the KOH-I-NOOR pastel pencils are a fantastic choice. These pencils stand out for their bold colours, soft core, and powdery texture, making them ideal for those who have experience working with pastels.
What sets these pastel pencils apart is their water-activation feature, which makes blending a breeze, especially when compared to other water-resistant pastels. The variety of natural colours in this set, including browns, yellows, greys, and blues, makes it an excellent option for artists interested in drawing animals, creating lifelike skin tones, or capturing picturesque landscapes. With KOH-I-NOOR, your drawing possibilities are as diverse as the colours in this set.
Best Professional Pastel Pencils:
For professionals seeking an extensive colour palette, the 72-piece Derwent pastel pencil set is a top choice. This set boasts a wide range of bold and diverse colours, including numerous browns, greens, and blues, making it ideal for adding highlights and intricate details to your artwork.
These pastel pencils are known for their soft, powdery texture, which allows for a smooth and even application on textured paper. When working with them, be mindful not to blow away the chalky residue; instead, lightly tap it into a garbage container. With Derwent pastel pencils, your art can come to life with a rich array of colours and impeccable detail.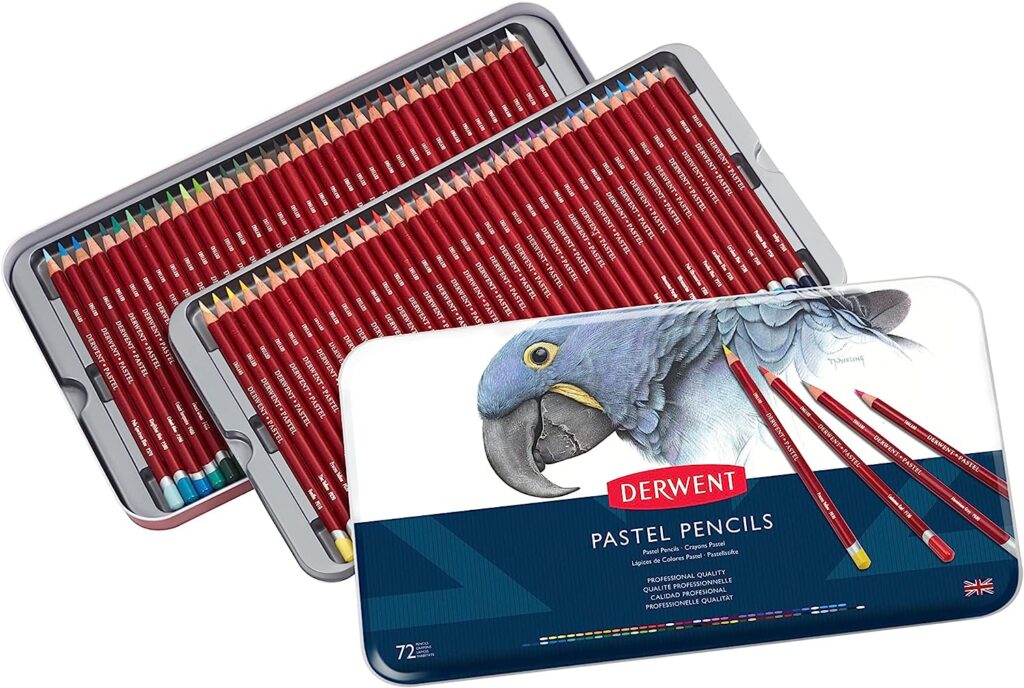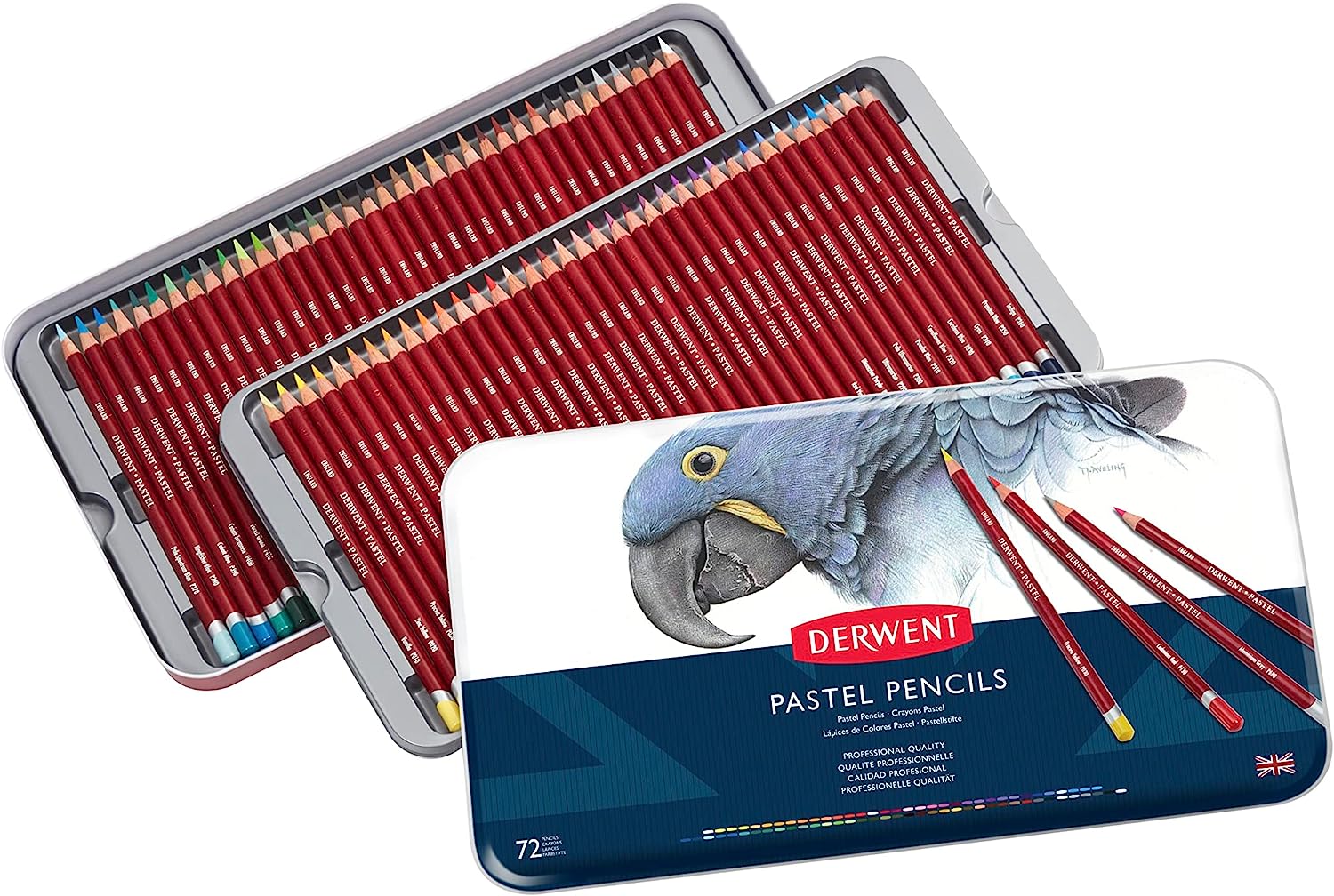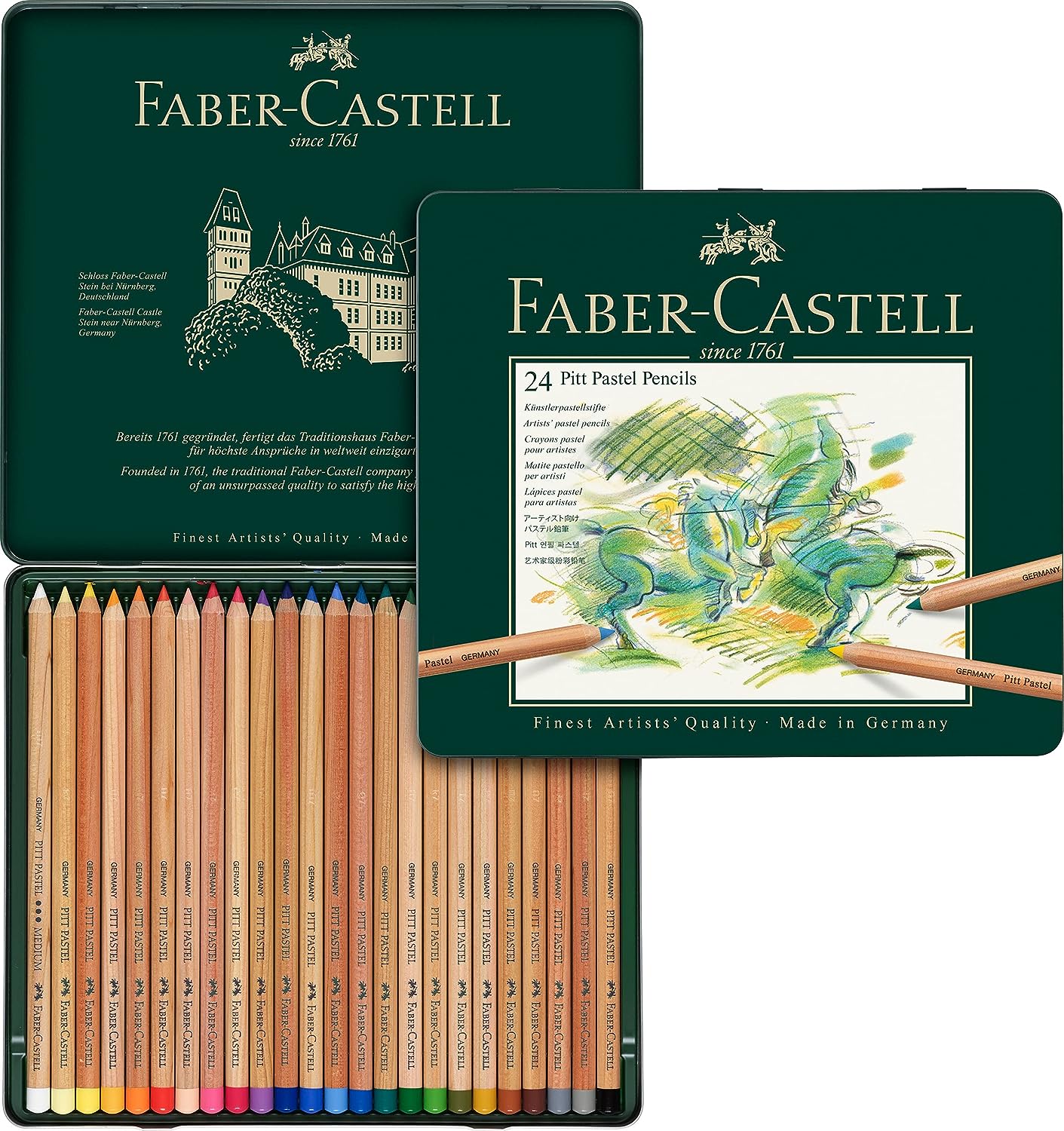 Best Pastel Pencils for Fine Detail:
Faber-Castell Pastel Pencils
If you're seeking pastel pencils that excel at fine details, look no further than Faber-Castell's Pitt pastel pencils. These pencils are renowned for their pitt cores, which are entirely wax and oil-free. This unique feature makes them a breeze to sharpen without the worry of breakage and ensures they can hold a fine point for intricate work.
Moreover, Pitt pastel pencils are known for their exceptional lightfastness and vibrant pigments, making them a fantastic choice for preserving your artwork's integrity over time. With an assortment of skin and hair tones, they are particularly favoured for portrait work. Elevate your art to a new level of detail with these versatile and reliable pastel pencils.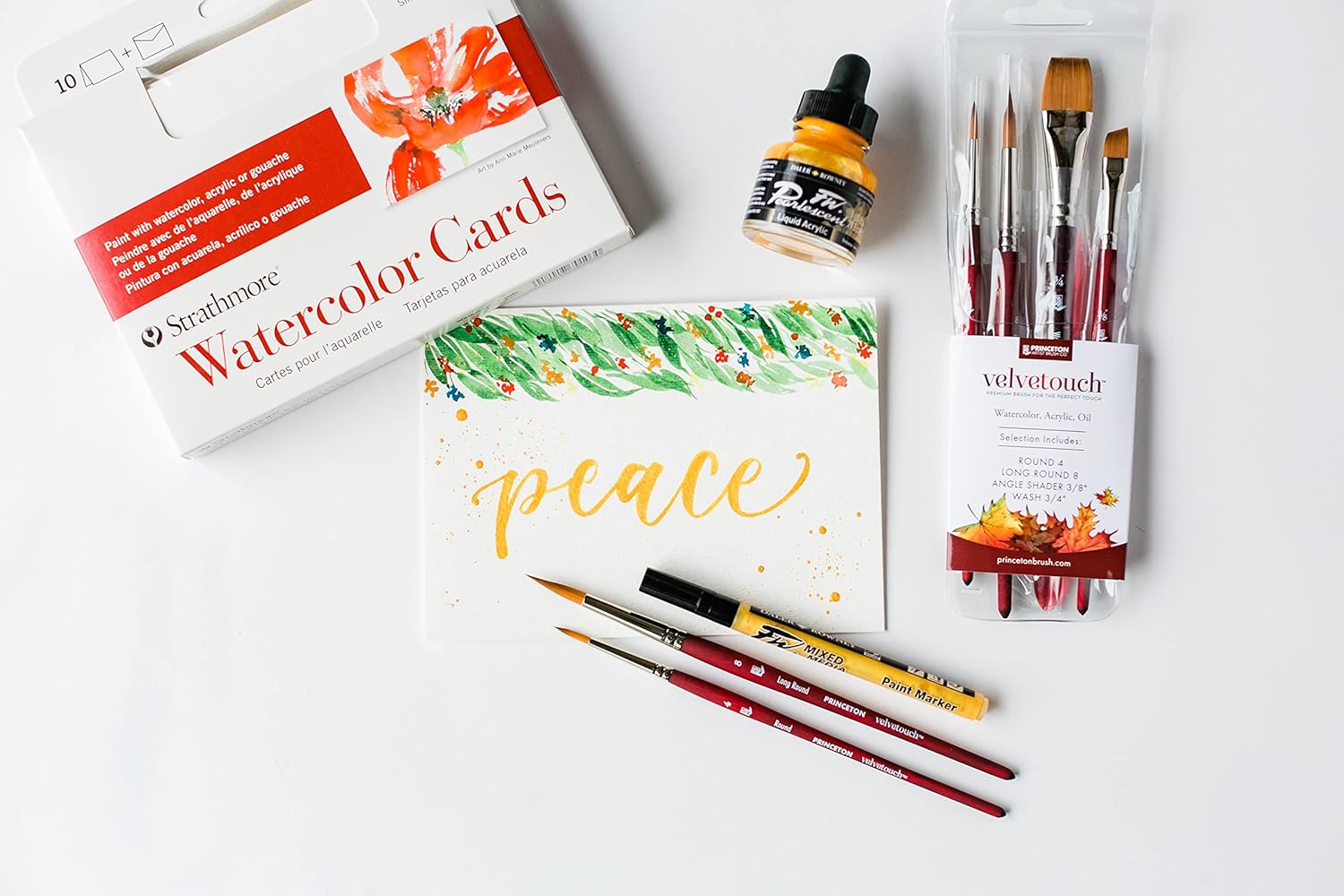 When I embarked on my watercolour journey way back when, I started with no-name watercolour tubes and the most budget-friendly brushes I could find at the dollar store. This lead to mediocre results which I thought was a result of my experience.
If you find yourself in a similar boat—brimming with enthusiasm but navigating a vast sea of choices while tethered to a limited budget—fear not, for you are far from alone.
Whether you're perusing the aisles of a local art supply shop or endlessly scrolling through online product listings, the task of selecting the right brushes can often feel like a form of art in itself. We have broken down the 5 Best Watercolour Brushes for Beginners.