The 5 Best Nonstick cookware sets 2023
The 5 Best Nonstick Cookware sets 2023
What are the benefits of nonstick cookware sets?
A high-quality nonstick pan can significantly simplify your kitchen life, regardless of whether you're a seasoned pro or a kitchen newbie. They're typically lighter than stainless steel or cast iron, require less oil for cooking, and are easier to clean.
When searching for nonstick cookware, it's important to note that there are two main types to consider: traditional nonstick and ceramic nonstick. Both can have bodies made from materials like aluminum or stainless steel, but it's the coating that makes them nonstick. Traditional nonstick cookware often features PTFE, also known as Teflon, while ceramic nonstick cookware can have a ceramic coating or glaze. Traditional nonstick is often more nonstick than its ceramic counterpart and tends to have a longer lifespan. Some people prefer ceramic because it doesn't typically contain the same chemicals as traditional nonstick cookware.
Once you've gone through our recommendations, you can find details on how we assess nonstick cookware, along with comprehensive information on shopping for and maintaining your ideal nonstick pots and pans. If you're considering investing in more advanced pans, check out our guides on the best egg pans and top copper cookware sets, as well as the best bakeware sets and camping cookware sets for added variety in your kitchen arsenal.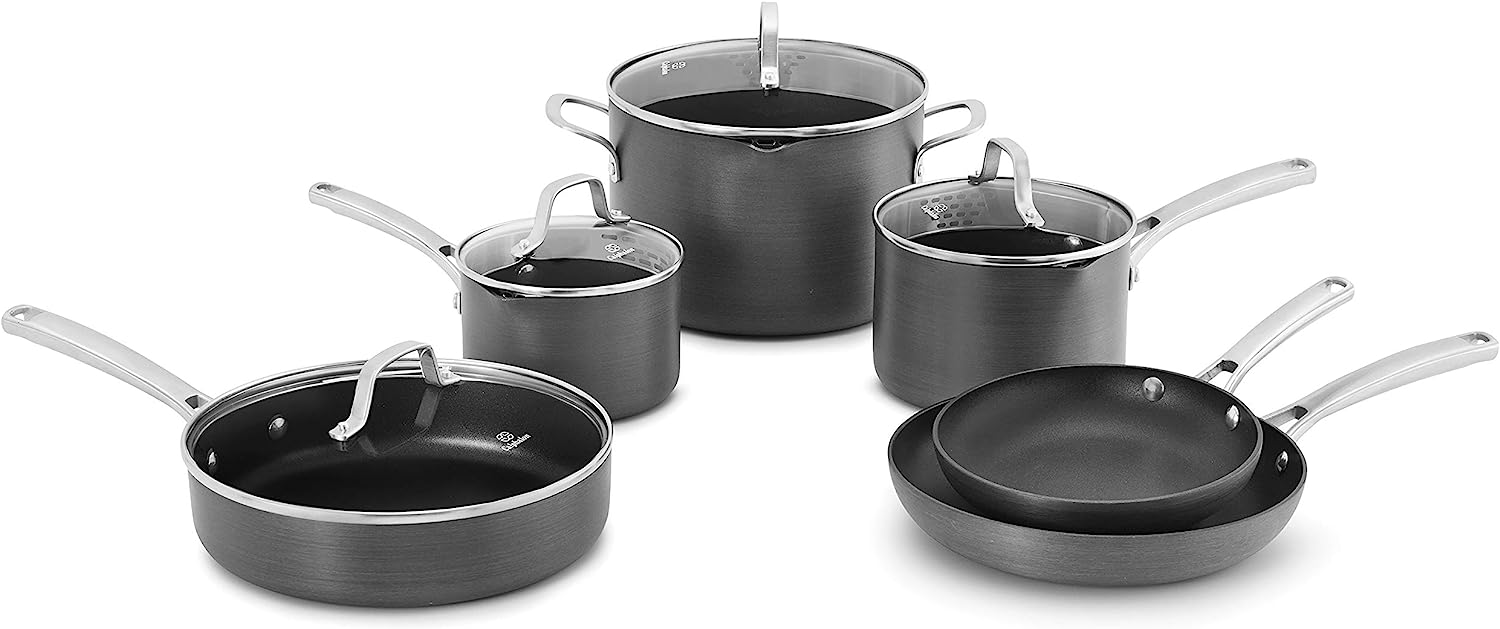 Best overall nonstick cookware:
Calphalon Classic Hard Anodized Nonstick 10-Piece Cookware Set
This cookware set offers a winning combination of superb performance and long-lasting durability. Crafted from anodized aluminum, the pots and pans strike the perfect balance between strength and weight, and they boast exceptional stain resistance. The saucepan has consistently proved its mettle by rapidly boiling water, while the 10-inch skillet displayed even heat distribution, producing a flawlessly seared steak. 
The nonstick coating performed admirably, allowing you to effortlessly scramble eggs without the need for oil or butter, and the eggs will slide right out of the pan. Furthermore, all the pieces in this set are oven-safe, withstanding temperatures of up to 450˚F. We particularly appreciate the clear lids and the comfortable, easy-to-grip long handles. 
Best value nonstick cookware:
T-fal Signature Nonstick Cookware Set
T-Fal's nonstick coating elevates these pots and pans to excellence, making them a top choice for preparing dishes like crepes, frittatas, and other potentially sticky foods. The wide handles remain cool to the touch and feature finger grips that facilitate precise and comfortable control. These cooking vessels are delightfully lightweight and are best suited for use over low to medium heat. 
Thanks to the thermo-heat indicator, you'll always know when they've reached the ideal temperature for cooking. During testing, scrambled eggs and pancakes cooked perfectly, without any adherence to the surface. The set's griddle is an enjoyable addition, particularly for preparing breakfast items like bacon. Furthermore, these pieces are a breeze to clean, courtesy of their dark nonstick finish both inside and out.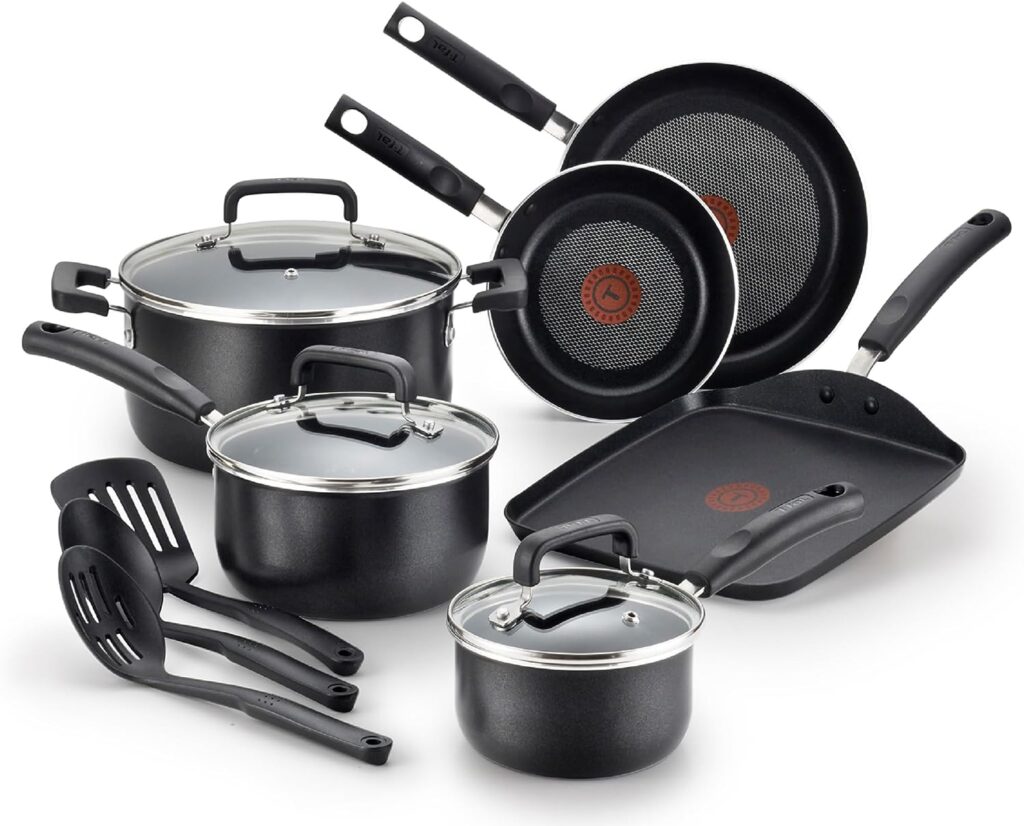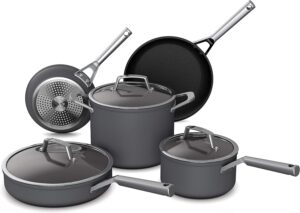 most durable nonstick cookware:
Ninja Foodi NeverStick Premium Hard-Anodized Cookware Set
Ninja, the brand with a top-rated air fryer, has now introduced pots and pans that brilliantly combine durability with ease of use. They're robust enough to handle steak searing yet lightweight enough for simple tasks, such as frying an egg or boiling water. Featuring straight sides, they make the most of the cooking surface, which is a boon when you're preparing meals for a family or aiming for a perfect sear on your dishes. (More space translates to better browning and a more evenly cooked meal.) 
Both the cookware and the lids are oven-safe up to 500ºF, expanding your cooking possibilities. These pots and pans are built to be scratch-resistant and safe for use with metal utensils. After a year of use there was no sign of scratching on the interior or exterior of the pan.
Best Ceramic Nonstick Cookware:
GreenPan Valencia Pro 11 Piece Nonstick Cookware Set
This GreenPan set is a standout, and a personal favourite. The cookware is a breeze to clean, featuring a hard-anodized exterior and a ceramic nonstick interior that is free of PFOA, PFAS, lead, and cadmium.

The assortment of cookware in this set is impressive, including pots and pans of various sizes to meet all your cooking needs. Each piece is lightweight, yet incredibly strong and durable, and can handle high heat levels (up to 600˚F). The clear lids are equipped with stainless steel handles designed to stay cool, and these handles are both comfortable to hold and protrude slightly to fit snugly in your grip while cooking. An added benefit is the inclusion of pan protectors to help prevent any scratches when storing. Even if a few nicks and scratches may appear on the rim, the light-coloured interior helps make them less noticeable.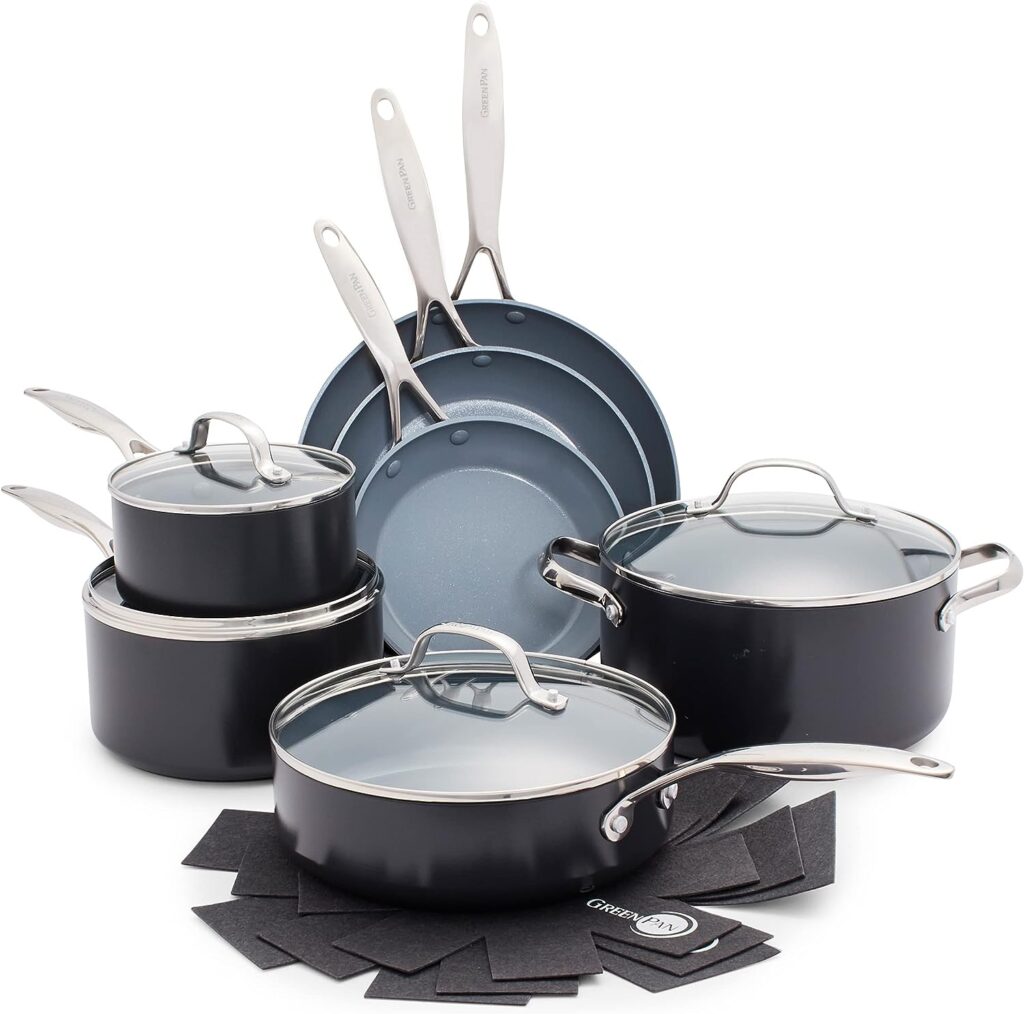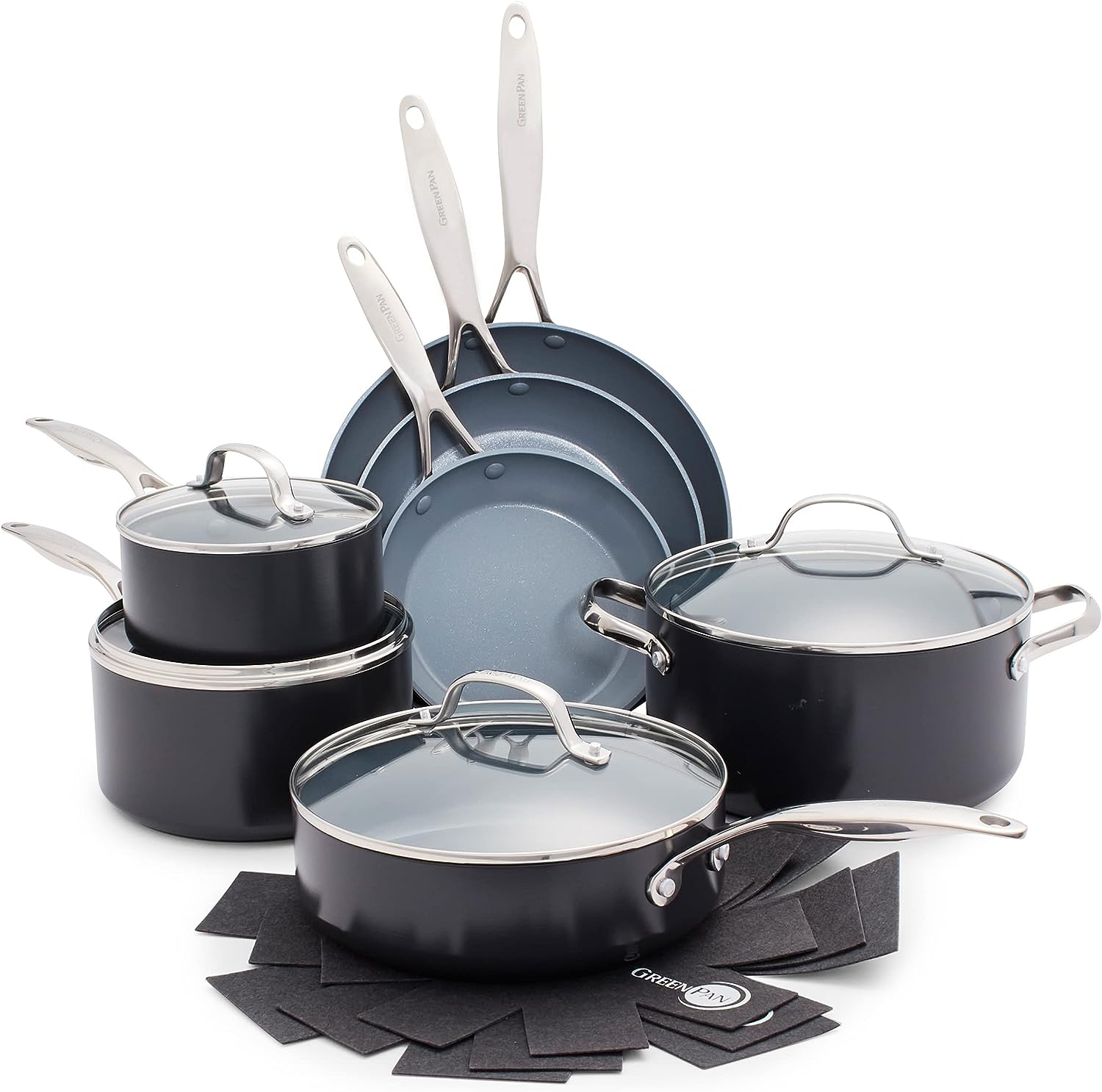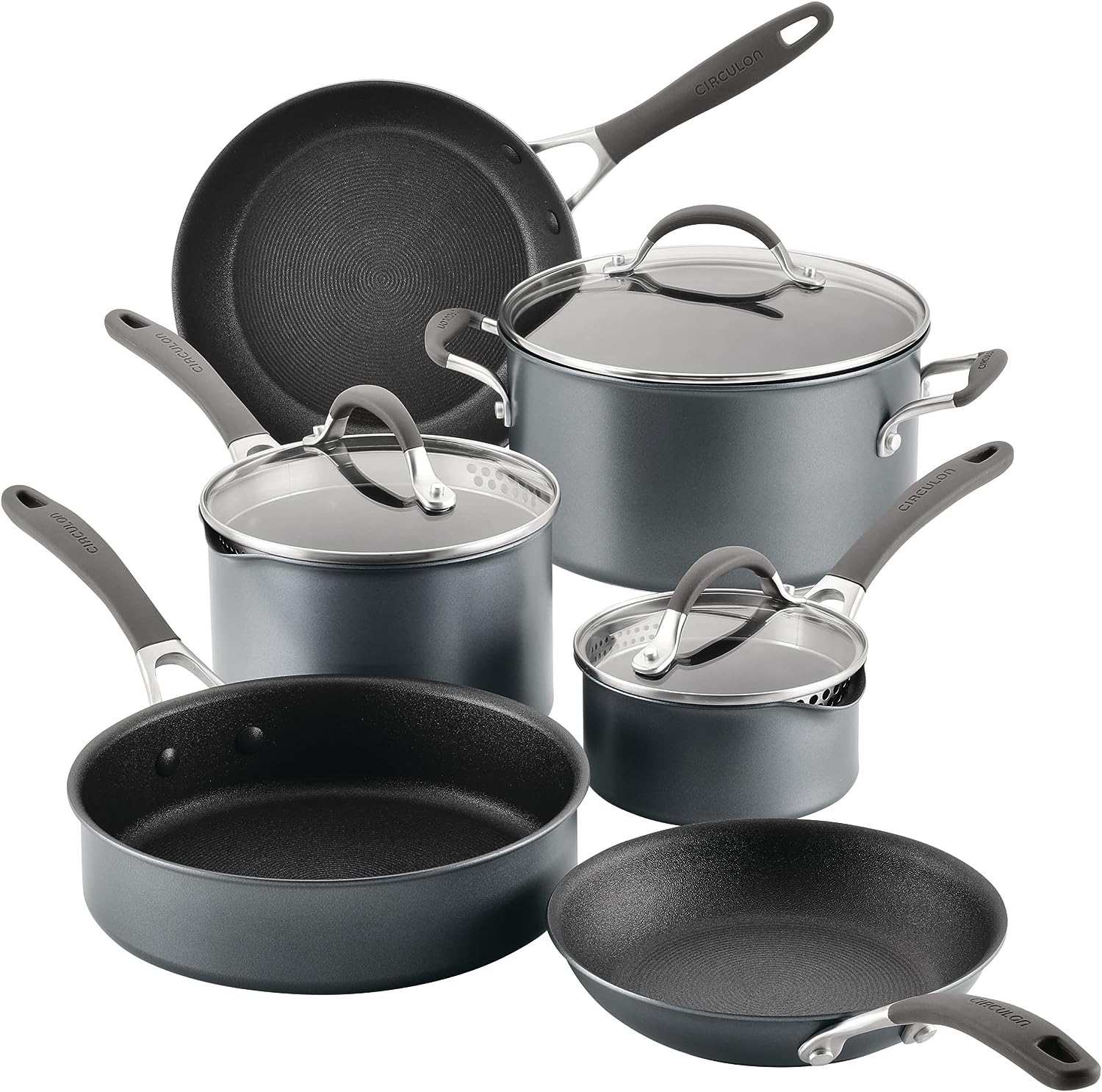 Best Scratch Resistant Nonstick Pans:
irculon A1 Series with ScratchDefense Technology Nonstick Induction Cookware/Pots and Pans Set, 10 Piece
These pots and pans received rave reviews from consumer testers. The skillet demonstrated even heat distribution, and in a egg test (without any grease), every egg slid out effortlessly without the need for a spatula. Cleaning up was a breeze, not only in this test but also in the scorch test sauce was simmered for 30 minutes and assessed how well it rinsed off.

The handles are wide and provide a secure grip, staying cool during cooking; oven mitts weren't necessary when handling the lid or the handle during the scorch test. Testers appreciated the pots' pour spouts and the built-in strainers in the lid. They were also impressed with the nonstick surface's durability and the pan's ridged design, which effectively resisted scratching. Additionally, the dark interior helps conceal any imperfections.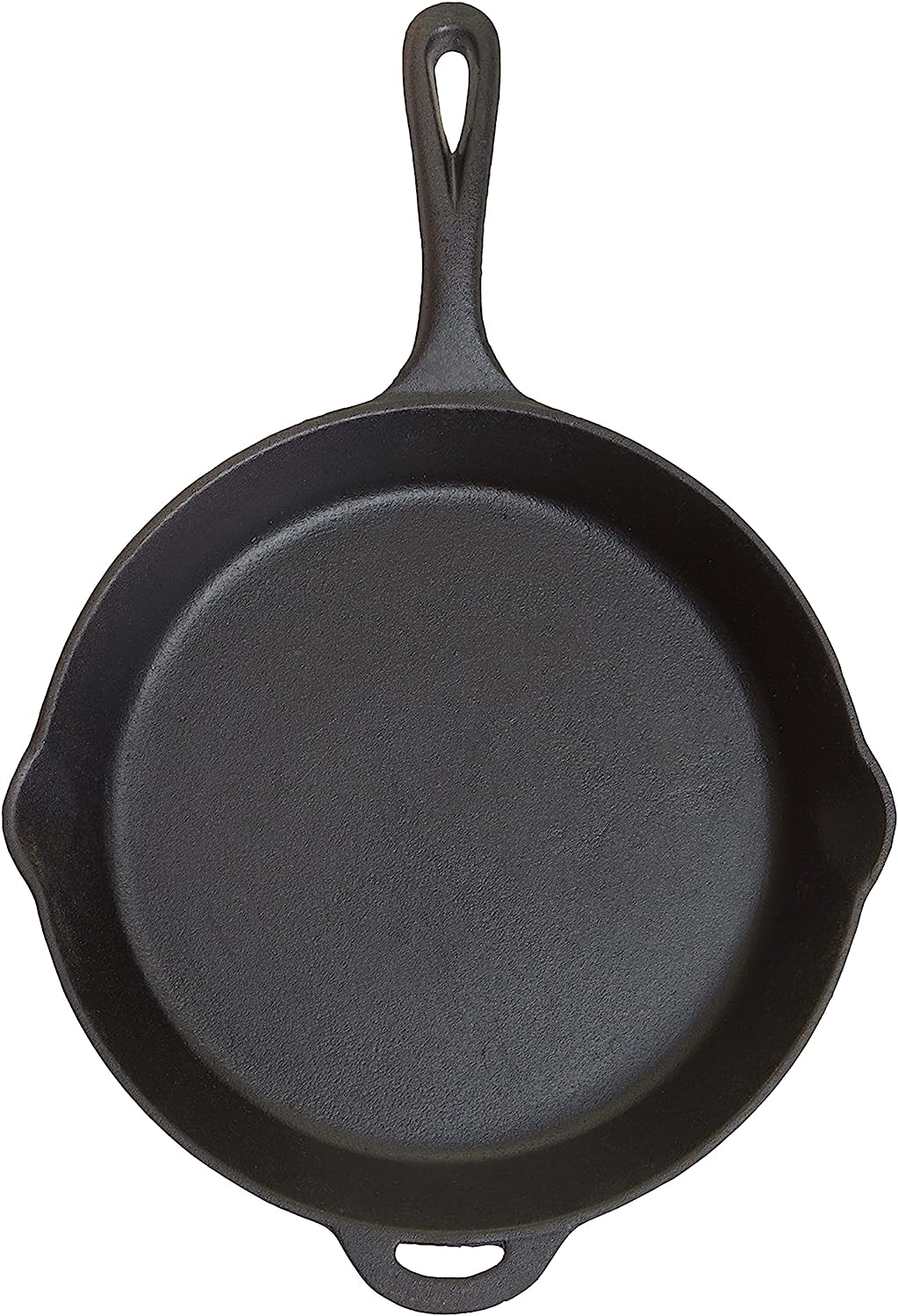 A cast iron skillet is an affordable kitchen workhorse that lasts, and many cooks have owned their cast iron skillets for years. James Beard Award-winning Southern cookbook author and chef Virginia Willis inherited her grandmother's skillet, which she estimates is 100 years old. "When I moved from New York and drove the car down, I put the jewelry, the irreplaceable art, and the cast iron skillet in my car." Click below to find the best cast iron skillets!